Dorian Slams Virgin Islands; Likely to Approach Florida as a Major Hurricane



 U.S. Virgin Islands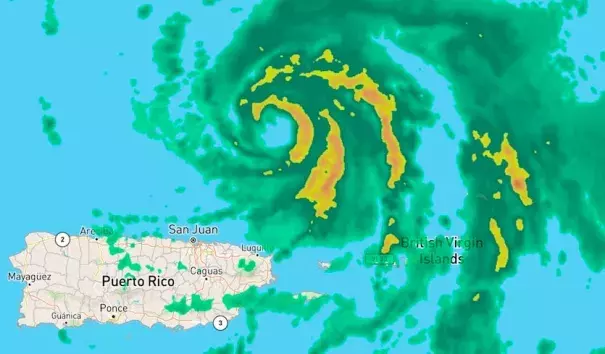 Hurricane Dorian was pulling away from the Caribbean on Wednesday evening, embarking on a four- to five-day journey that will take it across near-ideal territory for strengthening. By this weekend, Dorian is likely to be a major hurricane threatening Florida's Atlantic coast, and it may plow onward into the Gulf of Mexico next week.
Dorian muscled its way to hurricane strength on Wednesday with a burst of thunderstorms (convection) wrapping around a newly formed eye. Originally expected to move somewhere between the eastern Dominican Republic and Puerto Rico, Dorian ended up tracking well to the east, in part because its center reformed 60 miles to the north beneath intense convection on Tuesday. At 2 pm EDT Wednesday, Dorian made landfall on Saint Thomas in the U.S. Virgin Islands as a Category 1 hurricane with 75 mph winds. Winds on the south shore of Saint Thomas peaked at a sustained 72 mph between 1:17 and 1:27 pm EDT Wednesday, with gusts as high as 97 mph. Saint Thomas was in the developing northern eyewall of Dorian at the time.
...
The greatest rainfall from Dorian recorded on a WU Personal Weather Station was at ISTTHOMA12 on St. Thomas, which had 5.66" as of 6:30 pm EDT. The highest rainfall amount in Puerto Rico was 1.36" at Fajardo. Our wundermap with the Weather Stations/Precipitation option selected is a good way to follow the rainfall reports at personal weather stations.
...
Now is an excellent time to keep in mind that the average 5-day track error over the past five years of NHC forecasts is around 200 miles. With this in mind, the entire Southeast U.S. coast—especially from South Florida to South Carolina—needs to stay abreast of Dorian's evolution. People along the northern Gulf Coast should also be aware that there is a decent chance of a Gulf Coast landfall from Dorian next week.