Hurricane Dorian Ravaged the Bahamas and Struck the Southeastern U.S. Coast Before Heading to Atlantic Canada
Marsh Harbour
Hatteras, NC
Freeport
Emerald Isle, NC
Juno Beach, FL
Ocracoke, NC
Charleston, SC
Nova Scotia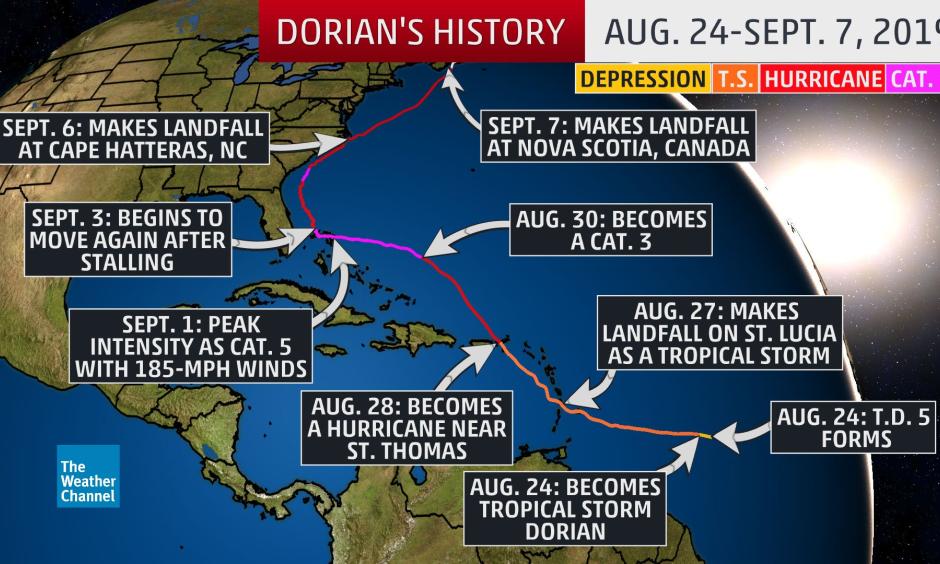 Hurricane Dorian caused catastrophic destruction in the Bahamas and then struck the southeastern U.S. coast and Atlantic Canada during the two weeks it tracked through the Atlantic.
...
The increasingly formidable hurricane generated frequent lightning, as seen both from the GOES-East satellite and from a Hurricane Hunter mission overnight on Aug. 31, 2019.
Dorian was upgraded to Category 5 status on Sept. 1, 2019, and became the first hurricane of that intensity to make landfall on Grand Bahama Island, after first making a pair of landfalls in the Abacos Islands of the northwestern Bahamas earlier in the day.
Maximum sustained winds topped out at 185 mph, tying the second-highest sustained wind speed among all Atlantic hurricanes. Dorian also tied the 1935 Labor Day Hurricane in the Florida Keys as the strongest landfalling hurricane in the Atlantic Basin.
...
According to Robert Rohde, lead scientist at Berkeley Earth, while over the northwestern Bahamas, Dorian was the slowest-moving major hurricane (Category 3 or stronger) on record in the Atlantic Basin, crawling at just 1 to 2 mph averaged over a 24-hour period.
...
While Dorian's most intense winds largely missed the Florida coast, there were destructive coastal impacts.
...
The backside of Dorian brought a storm surge from Pamlico Sound to North Carolina's Outer Banks, resulting in a rapid rise in water levels at Ocracoke and Hatteras. A flash flood emergency was issued by the National Weather Service for Hyde and Dare counties.
The water level reached 6.37 feet at Ocracoke on Sept. 6, 2019, and Hatteras saw its second-highest water level on record, 5.32 feet.