Downpours Sweep into Southeast Ahead of Tropical Storm Cindy
by
Category 6, Weather Underground
,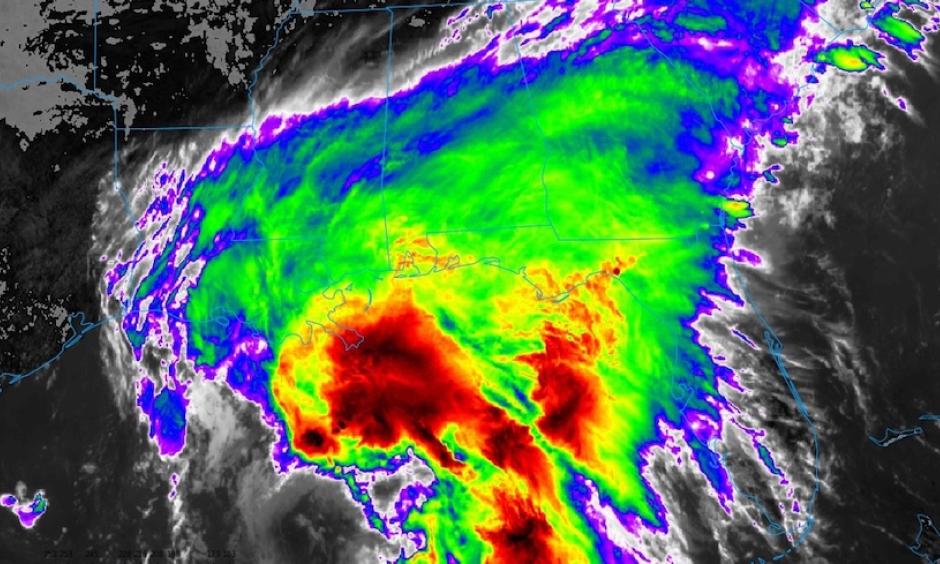 Newly christened Tropical Storm Cindy may produce extreme rainfall amounts on the central U.S. Gulf Coast. The NWS/NOAA National Hurricane Center upgraded Cindy to tropical storm status at 2:00 pm EDT after Hurricane Hunter flight data and satellite imagery confirmed that Cindy had developed a closed low-level center of circulation. At 2:00 pm, Cindy was stationary, located about 355 miles southeast of Galveston, TX. Top sustained winds were 45 mph.
...
Coastal impacts from Cindy
Coastal surge impacts should be relatively minor from Cindy, due to its modest strength and asymmetric structure. According to storm-surge expert Hal Needham, the topography of the coast will be most effective in generating storm surge well east of Cindy's landfall, over far southeast Louisiana and Mississippi. Maximum storm surge is expected to be in the range of 1 to 3 feet. Flooding was already being reported at midday Tuesday in the normally flood-prone parts of Dauphin Island, Alabama. Rip currents will be very strong ahead of Cindy, and recreationalists should stay out of the water.
The big threat from Cindy: Torrential rains and flooding
Heavy rains are already pushing into the Southeast as far afield from Cindy as the Carolinas, and these may intensify in what's known as a "predecessor rain event" (PRE). The shield of moisture ahead and rightward of the path of a tropical cyclone can generate far-flung rains a day or two ahead of landfall if the moisture happens to encounter a pre-existing frontal zone, such as the one now stretching from northern Alabama to the mid-Atlantic.
Despite its relatively weak winds and poor organization, Cindy will haul a very impressive slug of tropical moisture into the eastern United States. Precipitable water (the amount of moisture in a column above the surface) is predicted to reach or exceed 2.5" in the New Orleans area by tonight, which would be among the three highest values ever recorded there in June. PW values of more than 2" will overspread most of the Deep South by Wednesday, helping to fuel very heavy rains.
Models have been insistent on producing a focused pocket of 10" – 20" rains close to the coast well east of Cindy, likely somewhere between southeast Louisiana and the western Florida Panhandle. Parts of the central Gulf Coast have already had an unusually wet June, and significant local impacts could be expected if these rains materialize. Much of the inland South could also see 5" or more of rain from Cindy (see Figure 3). A new front will push into the Ohio Valley toward the weekend as the remnants of Cindy make their way up the Mississippi Valley and eastward. Together, these could produce an additional swath of very heavy rain across Kentucky and/or Tennessee late this week.