Early, Late, and Far-Flung: The Eclectic 2016 Atlantic Hurricane Season



 Atlantic Ocean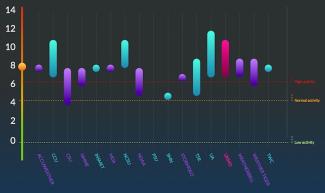 After three relatively quiet seasons, the hurricane-generating waters of the North Atlantic, Gulf of Mexico, and Caribbean returned in 2016 to the busy production schedule they've maintained in most years since the mid-1990s.
...
Here are the numbers for 2016 through November 30, the official last day of the Atlantic season. In parentheses are the average values for the period 1981 - 2010. Below the tally, you'll find our look at a few noteworthy aspects of this prolonged, wide-ranging season.

Tropical cyclones (including depressions): 16
Named storms: 15 (average 12.1)
Hurricanes: 7 (average 6.4)
Major hurricanes: 3 (average 2.7)
Accumulated cyclone energy (ACE), as reported by CSU: 134 units (average 108)
...
The Atlantic's deadliest hurricane in more than a decade: Matthew. The main story of the 2016 Atlantic hurricane season was Hurricane Matthew, the Atlantic's first Category 5 storm since Felix of 2007.
...
A phenomenally prolonged season. On January 14, Hurricane Alex became the Atlantic's first January hurricane since 1955.
...
Record amounts of oceanic fuel. The very strong 2015-16 El Niño, playing out on top of relentless long-term warming associated with human-produced greenhouse gases, led to record-warm sea surface temperatures across many parts of the globe, including the North Atlantic. Many of this year's storms developed or intensified over waters that were 1°C - 2°C (1.8° - 3.6°F) above the local seasonal average. The widespread oceanic warmth most likely played a role in extending the season, as well as supporting greater intensification in locations and time frames where it otherwise might not have occurred. Several of this year's hurricanes hit their peak strength near or north of 30°N, where especially warm waters prevailed during peak season.
...
A year littered with landfalls. From the first named storm to the last, 2016 saw an unusually large number of its tropical cyclones (13 out of 16) passing over or near land.
...
The intensity challenge, circa 2016. Over the last few years, forecasters and computer models have made some real headway in the devilishly difficult challenge of predicting rapid hurricane intensification, but 2016 gave us two humbling examples of how far we still have to go. As Hurricane Matthew drifted across the southern Caribbean Sea, it rocketed in strength from Category 1 to Category 5 in just 24 hours (from 80 mph sustained winds at 03Z on September 30 to 160 mph at 03Z on October 1).
...
Warning woes on the East Coast. The year's two most significant East Coast hurricane threats, Matthew and Hermine, proved to be unusually challenging from the warning perspective. Nearly the entire East Coast from Florida to Massachusetts ended up in a hurricane or tropical storm warning as a result of the two storms.
...
Florida's hurricane "drought" is over--but another record string continues. Florida got its first hurricane landfall in nearly 11 years (3966 days) with the arrival of Category 1 Hermine, which struck the state's northeast Gulf Coast on September 2. The landfall ended a string of good fortune unprecedented in Florida records. Hermine was also the first hurricane observed in the Gulf of Mexico since Ingrid in 2013, curtailing the Gulf's longest hurricane-free stretch on record. Hurricane Matthew's track just off the Southeast coast until its South Carolina landfall kept it from ending yet another remarkable "drought": the longest period between major hurricane landfalls (Category 3 or stronger) in U.S. hurricane data going back to 1851.
...
Addendum: Louisiana's no-name storm. One other event deserves mention here, even though it's not officially part of the 2016 tropical season: the slow-moving disturbance that dumped colossal amounts of rain on southern Louisiana in mid-August, causing 13 deaths and an estimated $10 - 15 billion in damage. Because surface winds were light and the surface low stayed generally onshore, the system was never declared a tropical cyclone by the National Hurricane Center. At the same time, for much of its life the storm was a symmetric warm-core low, the same type of structure associated with tropical cyclones.