Friday Night Threat Kicks Off a Stormy, Soggy April Weekend
,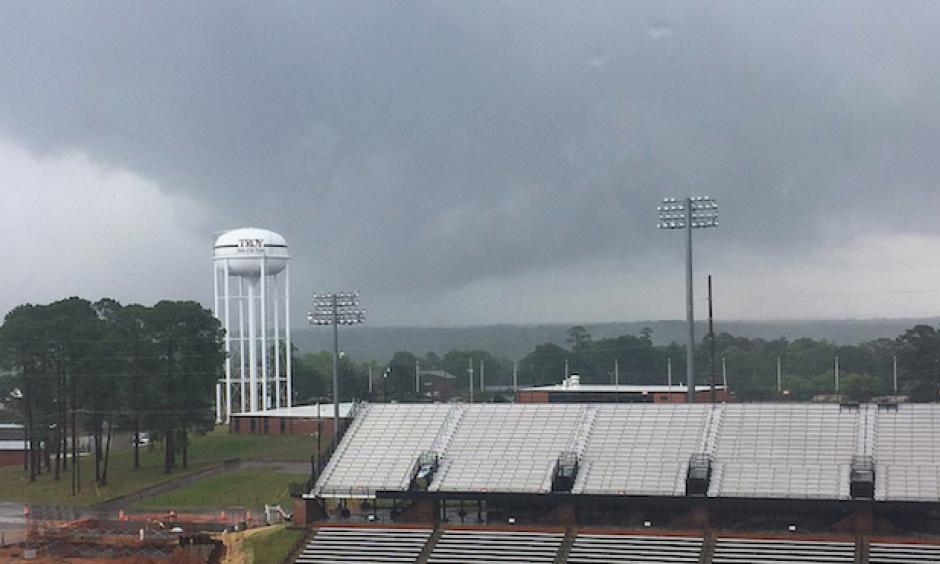 A complex setup for potentially tornadic storms late Friday will usher in a well-predicted multiday round of severe weather, including extreme rainfall, during the last three days of April.
The main trigger for the upcoming storms is a huge upper-level trough that engulfed much of the United States early Friday (see Figure 1). This trough will sharpen and consolidate into a more compact upper low across the southwest U.S. by Saturday, then swing northeast into the Midwest by Monday. It's a somewhat unusual sequence of events, but one that will end up producing widespread showers and thunderstorms (convection) along several frontal zones undulating across the southeast half of the nation. Ahead of the upper trough, an increasingly muggy air mass will send temperatures toward record- or near-record levels for late April.
Variations in the height of the 500-millibar surface, roughly the midpoint of the atmosphere (shown here in decamaters, or tens of meters, relative to average for this time of year) depicted by the 06Z Friday run of the GFS model for 2:00 am EDT Friday (top left), Saturday (top right), Sunday (bottom left) and Monday (bottom right). Colors correspond to departures from average. A strong trough is evident in the blue colors (below-average heights), while strong ridging in the East (above-average heights) will help generate record- and near-record heat along the Eastern Seaboard. Image: tropicaltidbits.com
...
Thus far in 2017, the "inflation-adjusted" tornado count of 489 through April 26 is notably high, though well below the January-1-to-April-26 record of 545 in data going back to 1954. The cumulative record will jump above 600 over the next week, so it would take a massive tornado swarm—one that we'll hopefully avoid—in order to keep pace with it.