Historic Flooding Ongoing as Houston Records One Of Its Rainiest Days Ever



 United States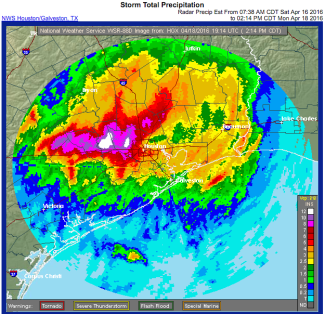 The National Weather Service now reports that Monday's rainfall total at George Bush Airport was 9.92 inches, Houston's second rainiest day on record, next to 10.34 inches on June 26, 1989 during Tropical Storm Allison.
Since the 1950s, Houston has seen a 167 percent increase in the heaviest downpours—defined as the number of days where total precipitation exceeded the heaviest 1 percent of all local events—one of the fastest rates of increase anywhere in the country. That's exactly what's expected to happen as the climate warms, since warmer air can hold more water vapor than cooler air.
An increase in the frequency of heavy rain events has long been considered one of the likeliest consequences of global warming, and a recent comprehensive National Academies report endorsed this link. Blocking weather patterns like this weekend's may be happening more often due to climate change, boosting the likelihood of heavy rainfall events, according to a new study published last week.
This is at least the fourth major flood in the Houston area in just the past 12 months, with previous flooding events last May, June, and October pummeling Texas hard. The triangle between Dallas, Houston, and San Antonio is sometimes referred to as "flash flood alley" because of its dangerous mix of hilly terrain, sprawling urbanization, and frequent heavy downpours, adding to the region's already considerable vulnerability to climate change