How California's recent flooding could set the stage for a dangerous wildfire season



 California, United States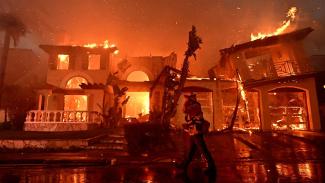 Climate Signals Summary: As human-caused climate change worsens, we can expect more intense swings between drought and flooding - this has cascading impacts, such as an increase in wildfire risk.
Article Excerpt:
Everything could be dried out one year, then completely drenched the next. For years, historically dry conditions have pushed the West to uncharted territory, triggering never-before-seen water shortages. Then at the end of December and into the early weeks of January, an onslaught of rain and snow finally came, significantly reducing the severity of the drought.
But Californians know the pendulum could abruptly swing the other way again: If moisture doesn't stick around and heat sets in, experts worry the wintertime rain and snow could prime the landscape for an intense wildfire season.
To receive climate stories like this in your inbox daily click here to sign up for the Hot News Newsletter from Climate Nexus: