Hurricane Dorian Becomes the 5th Atlantic Category 5 in 4 Years



 Bahamas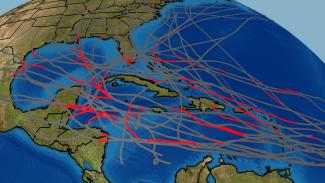 Dorian is the 35th Category 5 hurricane on record in the Atlantic.
Most Category 5 Atlantic hurricanes have occurred in August and September.
Four Atlantic hurricanes have made landfall in the continental U.S. as a Category 5.
....
Hurricane Dorian intensified into a Category 5 on Sunday morning, becoming the fifth Atlantic hurricane in the past four years to reach this highest level on the Saffir-Simpson Hurricane Wind Scale.
Dorian's intensification into a Category 5 marked the fourth year in a row the Atlantic basin has had at least one hurricane reach that strength. That's the most consecutive years on record with at least one Category 5 in the Atlantic, topping a three-year stretch from 2003 to 2005.