Last updated December 21, 2019

Hurricane Nicole 2016 path update: Bermuda braces for hit from Category 3 storm



 Bermuda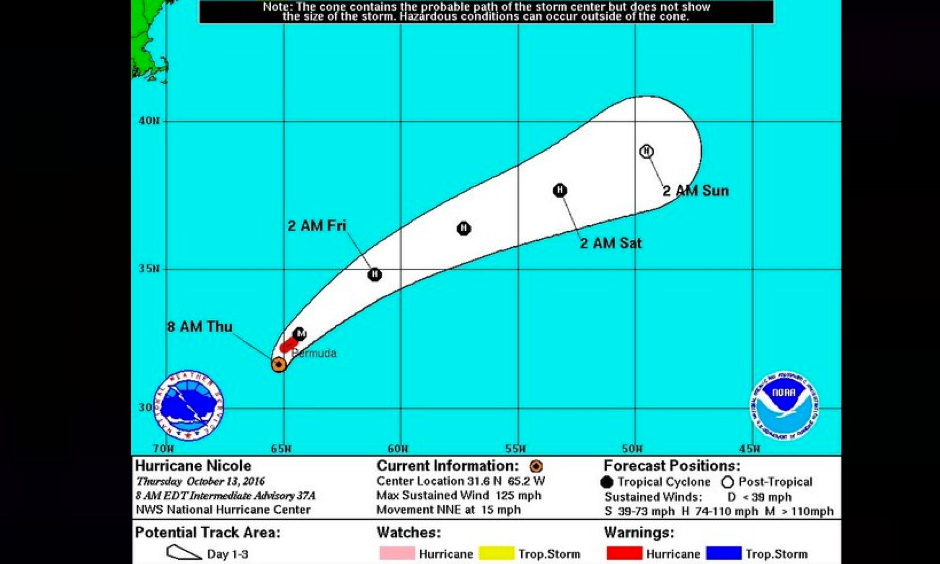 Nicole, which had winds down from 130 mph earlier Thursday, was still a dangerous Category 3 hurricane Thursday morning.
The hurricane center said Nicole would continue to gradually weaken today but would still be a major hurricane when it passes Bermuda.
...
The hurricane center said only seven major hurricanes have passed within about 45 miles of the island since 1851. A major hurricane is a Category 3 or stronger storm.
Even if the eye of Nicole doesn't make landfall in Bermuda the island will still feel the effects of the storm. The hurricane center said that hurricane force winds extended up to 65 miles from the eye, and tropical storm force winds reached outward up to 175 miles.
In addition to the wind and rain, Nicole could also bring a dangerous storm surge to Bermuda. The hurricane center said water levels could rise 6-8 feet above normal.
Six to 8 inches of rain was also expected through tonight as Nicole passes.