Hurricane Nicole Bearing Down on Bermuda at Category 4 Strength; One of Bermuda's Most Intense Hurricane Strikes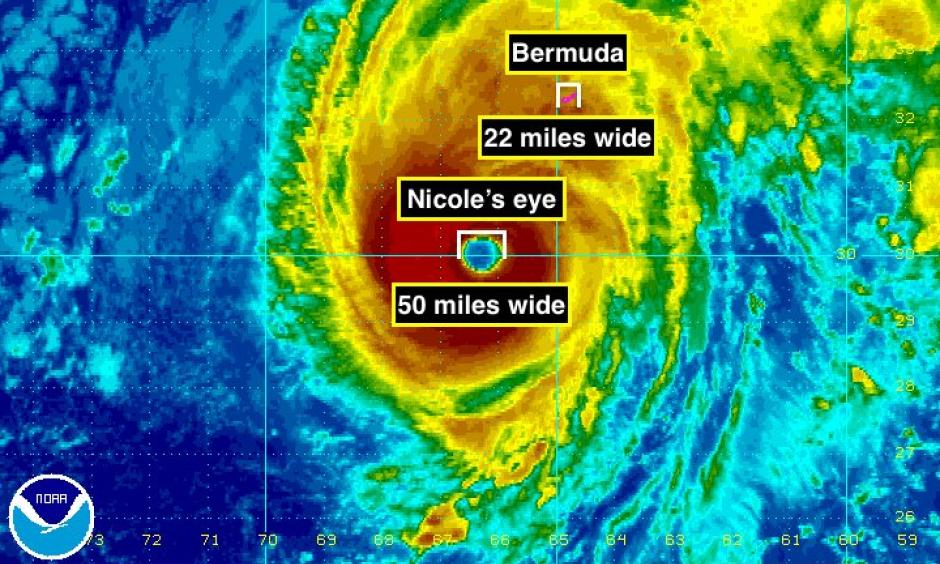 Hurricane Nicole is bearing down on Bermuda as one of the strongest hurricanes on record to affect the Atlantic archipelago.
Nicole rapidly strengthened to a Category 4 hurricane late Wednesday evening with maximum sustained winds increasing to 130 mph, and has run out of time to weaken sufficiently to avoid severe impacts upon slamming into Bermuda.
...
Barring some unlikely last-minute wobble of the eye, Bermuda is likely to see at least some portion of Nicole's eyewall Thursday, given hurricane-force winds currently extend out 65 miles from the center, while tropical storm-force winds are up to 175 miles from the center.
...
Nicole's storm surge will push water levels 6 to 8 feet above normal tide levels, the NHC says. Large, destructive waves will also pound the coastline.
Rainfall from 5 to 8 inches will only add to the impacts in Bermuda through Thursday evening.
Hurricanes of this intensity passing near Bermuda are exceedingly rare. Only two Category 4 hurricanes have passed within 75 miles of Bermuda in the historical record, the last of which was in September 1948. Nicole appears likely to pass the closest of any of the previous Category 4 hurricanes.