King tide countdown: six South Florida spots likely to flood and when
Fort Lauderdale, FL
Hollywood Beach, Hollywood, FL
Indian Creek Golf Club Rd, Jupiter, FL
Dinner Key Marina, SW 27th Ave, Miami, FL
Sound Dr, Key Largo, FL
Key West, FL
,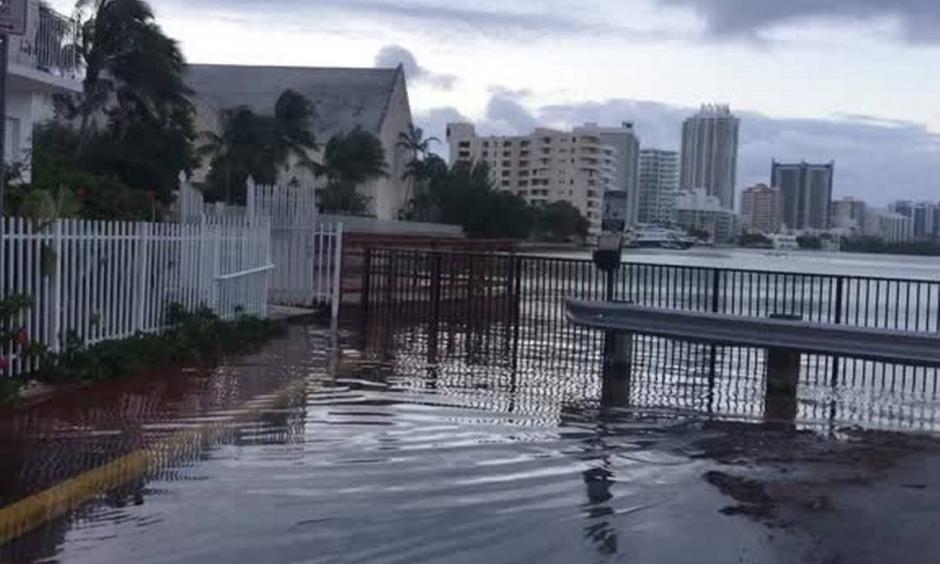 It's October in South Florida and that means one thing this weekend: time for king tides and the annual affront by the sea.
...
But predicting tides can be tricky, with timing tied to location and whether you're inland or on the beach. So we picked six South Florida areas where historically flooding has been high.
Andrews Avenue Bridge, Fort Lauderdale
Now in the midst of a makeover, the bridge crosses the Tarpon River just west of the city's Rio Vista and Las Olas Isles neighborhoods, where past tides swamped roads. Coastal canals in the city frequently crest their banks during the tides, causing widespread flooding.
Saturday high tides: 8:44 a.m. and 9:02 p.m. Sunday high tides: 9:35 a.m. and 9:50 p.m.
...
Hollywood Beach
Even heavy rain can flood roads and yards in low-lying east Hollywood. King tides just make it worse. Last year, resident Robin Rorapaugh stacked 150 sandbags to keep her house dry, hoping to fend off water bubbling up from storm drains. Rorapaugh, who has lived in her 1923 house since 2000, said she's becoming "an expert on all kinds of plants that do well with saltwater," as flooding has gotten progressively worse over the years.
Saturday high tides: 9:06 a.m. and 9:24 p.m. Sunday high tides: 9:57 a.m. and 10:12 p.m.
...
Indian Creek Golf Club, Miami Beach
More often a river than a road during king tides, Indian Creek Road got a little extra protection in advance of this year's tide: a concrete barrier and netting to keep debris from washing into the road. Over the next two years, the state and city plan to spend $25 million to raise the road and install a new stormwater pump.
Saturday high tides: 9:42 a.m. and 10 p.m. Sunday high tides: 10:33 a.m. and 10:48 p.m.
...
Dinner Key Marina, Coconut Grove
Across the bay on the mainland, tides can cause flooding in unexpected places like Sweetwater, closer to the Everglades than the coast but still just three feet above sea level, and bayside at Matheson Hammock. Already tides this year have submerged roads at the popular park and swamped the beach around the swimming atoll.
Saturday high tides: 9:23 a.m. and 9:41 p.m. Sunday high tides: 10:14 a.m. and 10:29 p.m.
...
South Sound, Key Largo
Last year's king tide sent residents of one Key Largo neighborhood to their local rental car agency. With streets submerged for two weeks, some said they were left with no choice but to rent SUVs to ford their way home. Even Monroe County officials say it might be time for residents to consider swapping cars for boats.
Saturday high tides: 8:52 a.m. and 9:10 p.m. Sunday high tides: 9:43 a.m. and 9:58 p.m.
...
Key West
The southernmost point has survived pirates and hurricanes. Now comes king tides. Roads had already started to flood Friday, leaving a wake behind the island's popular Conch train.
Saturday high tides: 10:04 a.m. and 10:01 p.m. Sunday high tides: 10:54 a.m. and 10:40 p.m.