Lake-effect snowstorm could dump 40 inches in parts of New York, unusually late in the winter
Buffalo, NY
Watertown, NY
Hamburg, NY
,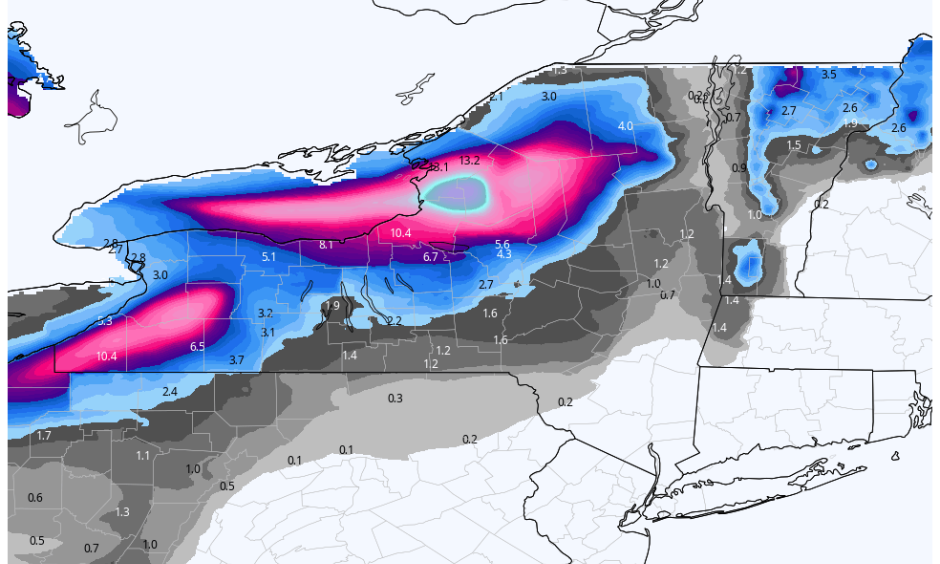 Climate Signals Summary: Climate change is increasing the risk of lake-effect snow, like what we saw in December of 2016. Global warming is increasing water temperatures in the Great Lakes, preventing the formation of winter ice and causing earlier spring melt, which allows lake-effect snow to occur more often and later in the winter.
---
Article Excerpt: Imagine getting 40 inches of snow in under two days. Then picture driving a few towns over and finding they didn't even have to plow. This is the world of lake-effect snow.
That exact scenario could unfold late this week east of lakes Erie and Ontario as the prolific "lake-effect snow machine" gets underway. Downwind of Lake Erie, a general 10 to 20 inches is forecast. East of Lake Ontario, double that — in some locales, more than three feet.
Blizzard warnings are in effect downwind of both lakes. Strong westerly winds gusting up to 60 mph at times will channel building snow streamers to the lakes' eastern shores while reducing visibility below a quarter mile at times. The gales could also trigger scattered power outages and sculpt snow drifts up to eight feet high.
...
Instrumental in the ongoing snow is the lack of ice over lakes Erie and Ontario. Lake-effect snow can only develop when a lake's waters are exposed to the atmosphere above it. This year, a significant deficit in ice coverage has allowed the lake-effect snow machine to work for deeper into the season than usual.
"Lake Erie a lot of times shuts off because it freezes, but we usually still get some effects from the lake," Mitchell said. Among these influences can be frictional convergence, or the development of snow showers enhanced by easier air flow over the smoother lake surface.
...
Frank Marsik, an associate research scientist at the University of Michigan, offered numbers on the ice deficit.
"This year, we're considerably below normal," he said. "Last year at this time of year, we were looking at about 70 percent Great Lakes ice coverage. This year, we're looking at about 10 percent."
He noted that 2012 and 2017 also featured below-average ice coverage.
"Most of the lakes are running 1 to 2 degrees above where they were last year, and that's playing a role in ice coverage," Marsik said. He attributes that to mild temperatures this season.
Thomas said that a warming world in the future could favor more lake-effect precipitation and reduced ice coverage. But not all of what falls will be snow.
"If winters continue to get warmer, we might get more rainfall," she said. "Though if we continue to get those outbreaks of Arctic air … we could get some pretty severe lake-effect storms."
...
As winds drive water across the lakes, water is piling up along their eastern shores. Lakeshore flood warnings are in effect, the National Weather Service calling for "flooding along the shoreline … especially in bays and inlets and other low lying shoreline areas."
This flooding will be heightened by lake-water levels that are running up to a few inches above average this year, thanks to recent precipitation. Marsik said 16 of 24 months in 2018 and 2019 had above-normal precipitation in the southern Great Lakes.