At Least 1 Dead as Widespread Flash Flooding Swamps Raleigh, North Carolina



 United States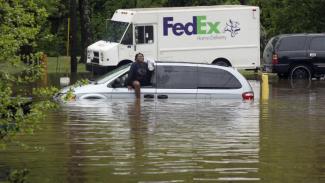 Tuesday a body was found near a river in Raleigh, North Carolina, after torrential rain triggered widespread flash flooding that swamped homes and businesses, shut down roads and stranded vehicles.
State Department of Transportation spokesperson Robert Broome said the body was discovered by a maintenance crew removing debris at a bridge over the Neuse River, the Associated Press reports.
...
Among the hardest-hit areas was Crabtree Creek north of downtown Raleigh, which rose over 17 feet in 24 hours since Monday morning at Old Wake Forest Road, topping levels at which water enters business and homes in the area, and just over 2 feet below its record crest before leveling off.
...
Gov. Roy Cooper said Tuesday that "we've seen rainfall like we haven't seen since Hurricane Matthew.
...
The National Weather Service issued a rare flash flood emergency for Wake County, warning of an "awful" morning commute due to numerous flooded roads.
...
According to the Associated Press, about 2,700 Duke Energy customers were still without electricity Tuesday morning. About half of those were in and around Raleigh.
...
[T]he calendar-day rainfall at Raleigh-Durham International Airport on April 24 set an all-time April record, in 130 years of records, and helped set the city's wettest April record, which had stood since 1895. April is typically the city's driest month, averaging just less than 3 inches for the entire month.
...
These eight-inch-plus rain totals exceeded those measured in the Raleigh metro area during Hurricane Matthew in early October 2016, though much heavier rain fell in southern North Carolina southward during Matthew.
Monday, heavy rain and high tides triggered major flooding in downtown Charleston, South Carolina.