At Least 2 Dead After Tornado Touches Down in Louisiana
,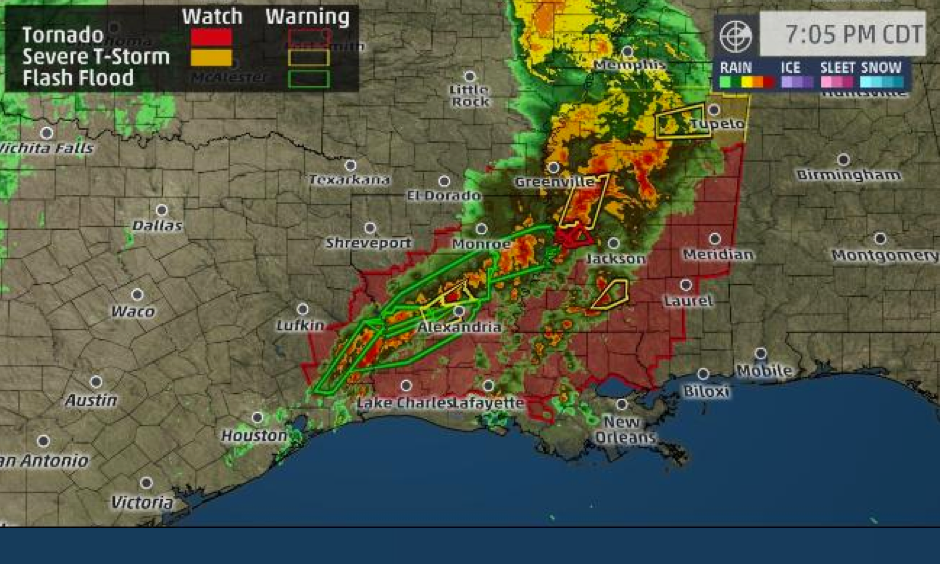 An outbreak of dangerous severe thunderstorms with tornadoes, large hail and damaging wind gusts is underway in the South and will continue through Monday ahead of a strong jet stream disturbance pivoting across the region. Heavy rain capable of causing flash flooding is also a major concern with these storms.
...
Two people were killed by an EF1 tornado that destroyed their mobile home Sunday morning near Breaux Bridge, Louisiana, according to the St. Martin Parish Sheriff's Office. This tornado had maximum winds of 100 mph, according to the National Weather Service storm survey. More details on impacts from the severe weather are at the link below.
A tornado emergency was issued for Alexandria, Louisiana, Sunday afternoon as two reported tornadoes headed for the city. Property damage was reported, especially on the south side of the city. No injuries have been reported, according to the Alexandria Police Department.
Elsewhere, a brief tornado was reported Sunday morning well northwest of San Antonio in Center Point, Texas. Hail to the size of golf balls was observed near Buffalo, Texas, and Lafayette, Lousiana, has seen hail the size of half dollars.