Life-threatening flooding problems to mount as storm train aims for California
Sierra Nevada, California
,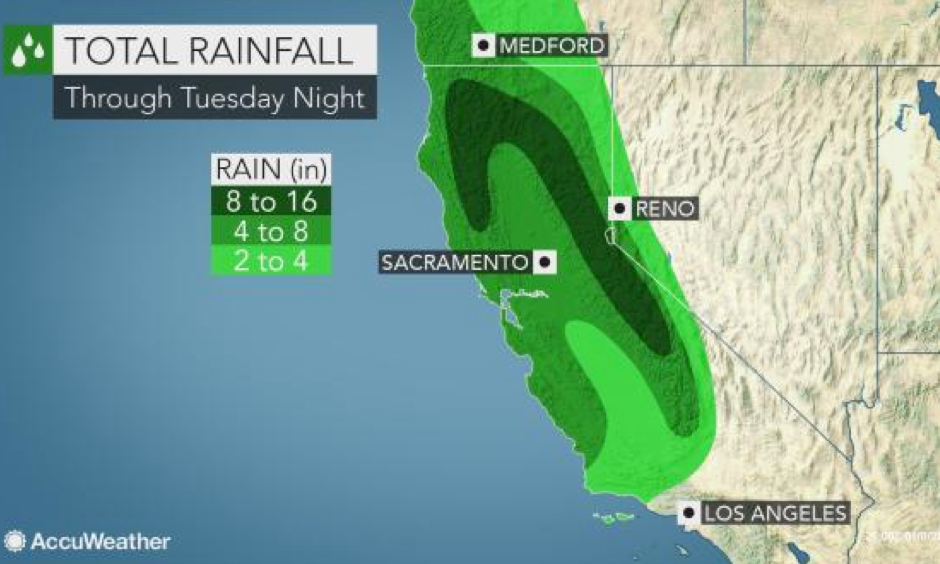 Cumulative rainfall from this weekend to midweek could surpass a foot across the northern California coast ranges and west-facing slopes of the Sierra Nevada. Two to 8 inches of rain are expected across the Sacramento and San Joaquin valleys.
"The siege of storms has the potential to wipe out or greatly erase the long-term drought conditions in the region," AccuWeather Senior Meteorologist Alex Sosnowski said.
The rain will have a hard time absorbing into the soil with each passing storm. As a result, incidents of urban flooding, river flooding, mudslides and rock slides will only increase into midweek.
Significant flooding, mudslides and rock slides have already been reported to end the weekend.
...
As snow levels remain high into Sunday night, heavy rain falling over snow-covered peaks in the Sierra could unload a torrent of water into the foothills.
"Rivers and streams that flow out of the Sierra into the lower foothills and valleys on California and also into western Nevada will likely see the worst flooding in a couple of decades," AccuWeather Senior Meteorologist Ken Clark said.