The Maryland Flooding Is a Warning: The Danger Is Rain, and We're Making It Worse



 United States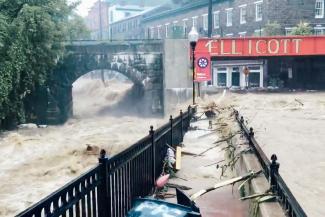 Climate change is hitting America as rain, and we're making it worse.
Two years ago, Ellicott City, Maryland, was hit by a debilitating flash flood that turned the town's historic Main Street into a raging muddy river. Scientists said the July 2016 rainstorm was a once-in-a-thousand-year event.
But on Sunday it happened again: 7 to 9 inches of rain fell in the area, 10 miles west of Baltimore, and another torrent swept cars and trees through town. More than 1,000 911 calls were recorded on Sunday afternoon, more than 300 residents were evacuated, and a National Guard sergeant died trying to rescue someone.
"This is worse," said Howard County executive Allan Kittleman, compared with the 2016 storm, which caused tens of millions in damages and lost business.
Ellicott City isn't some postwar boomtown built inside a reservoir or a vacation community playing chicken with the ocean waves. It's a 250-year-old river town, and like many river towns, it's known flooding, chiefly from the rising waters of the Patapsco, the river at the foot of town that drains into Baltimore Harbor.
But these past two storms—as well as September 2011 flooding from Tropical Storm Lee—have worked differently. Instead of the water rising from the river at the base of the town, it's come roaring in down two tiny tributaries, the Tiber and the Hudson, which merge just before entering the Patapsco. According to a Baltimore Sun investigation, prior to 2011, it had been 60 years since runoff on the Tiber stream produced a flash flood. Now it has happened three times in seven years.
It's a reminder that heavy rain, rather than rising seas, may be the earliest severe consequence of climate change. We've prepared for it in the worst way possible.
Between 1958 and 2012, according to the 2014 National Climate Assessment, the amount of rain falling in "very heavy events"—those at the top 1 percent of all rainstorms—has risen by 27 percent in the Southeast, 37 percent in the Midwest, and a whopping 71 percent in the Northeast. The most extreme downpours are getting more extreme. (Coincidentally, this weekend also saw just the ninth classified storm to make landfall before hurricane season since 1851 when Alberto hit the Florida panhandle, and a virtually unprecedented Category 3 Tropical Cyclone in Oman)