The Midwest Is Preparing To Get Hit With Major Floods During The Coronavirus Outbreak
Louisiana
Mississippi
Minnesota
,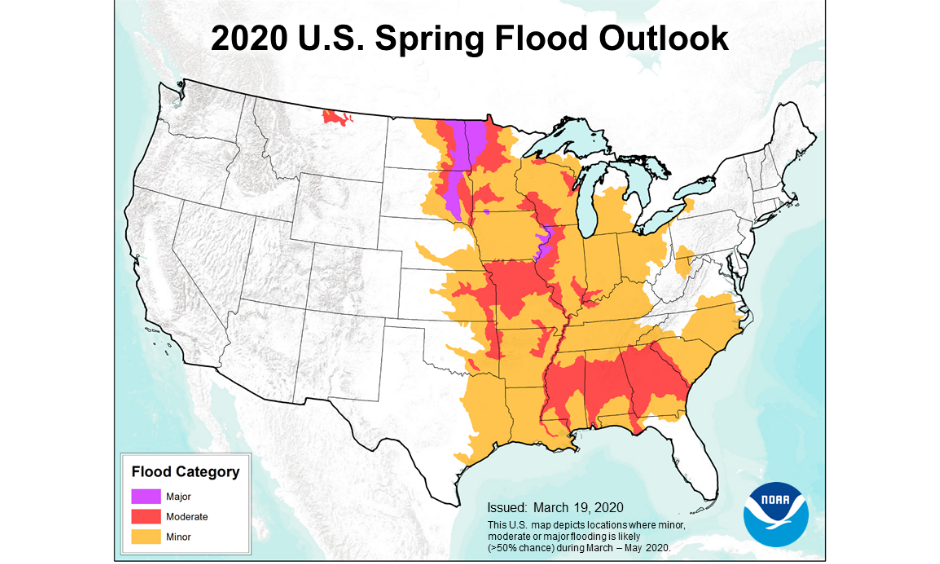 Climate Signals Summary: Climate change is increasing the frequency and intensity of extreme rainfall events, as well as increasing total precipitation in some areas, and this increases the risk of flooding. In the spring of 2019, there was severe flooding in the Mississippi River Valley and the Missouri River basin.
---
Article Excerpt: As an upsurge in coronavirus infections stretches thin the capacity of health care workers and emergency managers nationwide, the Midwest is bracing for another battle: a potentially devastating flood season.
"The current situation with COVID-19 presents us a fight on two fronts: one front, we have the ongoing coronavirus pandemic, and on the other, what promises to be a very active spring 2020 flood season," Sharon Broome, mayor of Baton Rouge, Louisiana, said on a press call Thursday.
The National Oceanic and Atmospheric Administration this week released its spring flood projections, predicting moderate to severe flooding in 23 states. The greatest risk for "major and moderate flood conditions," federal experts say, is along parts of the Mississippi River basin.
For local leaders in the Midwest, this situation is offering a crash course in how to plan and respond to multiple types of disasters simultaneously. And in a warming world, overlapping and compounding disasters will likely be the new normal. Human-caused climate change is already increasing the intensity and likelihood of certain extreme weather events, including heavy rain and related flooding in the middle of the country.
...
One area of disaster management that's especially complicated by the pandemic is sheltering displaced people. Red Cross members are planning to work with local officials to see if there are hotels or dorms available to give people displaced by flooding shelter while also keeping them separated enough to prevent the potential spread of the virus. If a shelter needs to be set up, people coming in would also get screened for symptoms of COVID-19, such as by getting their temperatures checked, according to Trevor Riggen, senior vice president of disaster cycle services at the American Red Cross. Anyone exhibiting symptoms would be isolated.
...
For regions battling especially fast-growing coronavirus outbreaks, such as New Orleans and Baton Rouge in Louisiana, flood preparation is taking a backseat as they deal with the current crisis.