Mississippi River Valley Floods 2019



 United States
2019 saw the most prolonged and widespread flooding in US history. The Upper Mississippi River, Arkansas River, and Missouri River, which drain into the Lower Mississippi, all flooded, and each ranked on the National Oceanic and Atmospheric Administration's list of billion-dollar weather and climate disasters. Collectively, the flood events cost an estimated 20 billion dollars and caused nearly 20 million acres of farmland to go unplanted, disrupting rural economies across the country as well as the communities they support.[1]
Several river gauges set records for the greatest length of time water levels remained at major flood stage. It is a stark example of the risks the United States now faces due to the environmental disruption caused by climate change. Significant increases in flooding are well-documented in the Midwest. These increases are attributed mostly to the observed increases in total precipitation. There is also increasing evidence to suggest that the persistent jet stream behavior behind some of the record setting precipitation events is more likely due to human-caused climate change.
There were three major rounds of flooding between March and September. In many cases, communities flooded more than once, with barely any time in between to clean up or prepare for another flood. In March, parts of the Midwest and northern US states were hit with a "bomb cyclone" that dropped immense amounts of snow and rain in a short period of time. The Mississippi River flooding from spring through July was the longest flood on record, breaking the 1927 Great Flood record.
Get the details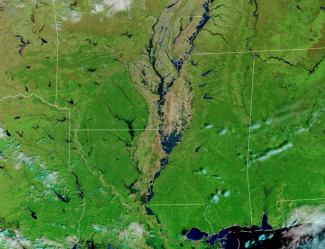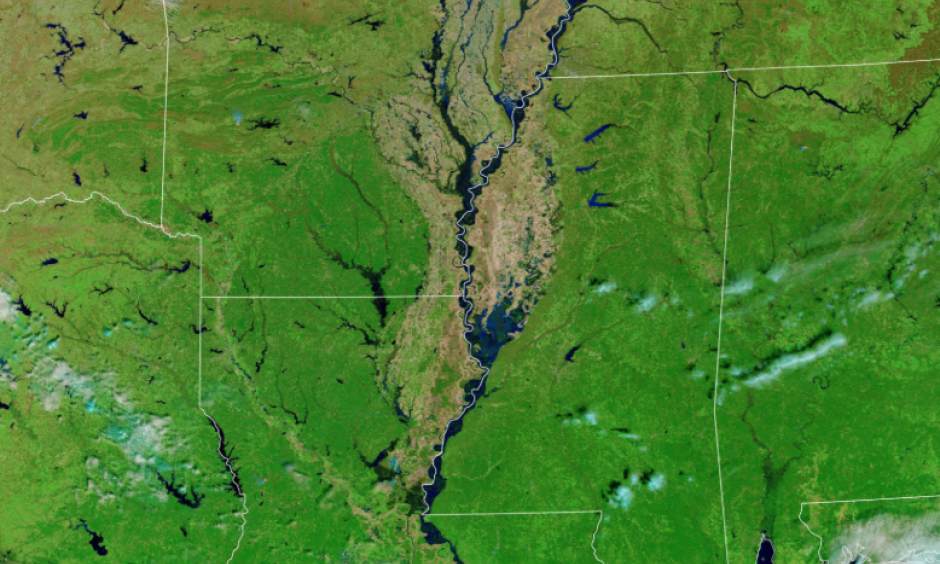 Climate science at a glance
---
The 2019 Disasters are difficult to overstate. The impacts of 2019 were basin-level: 14 million people displaced, 19.3 million acres unplanted, over $20 billion in damages across the Ohio and Missouri River Valleys.
---
Climate signal breakdown
Extreme precipitation is increasing worldwide as the warming atmosphere is holding and dumping more water when it rains. Across the United States, observational data shows an increase in the intensity and frequency of extreme precipitation events.[1]
Statistically significant increases in flooding are well-documented in the Midwest.[2][3][4][5][6][7] These increases in flood risk and severity are not attributed to 20th century changes in agricultural practices, but instead are attributed mostly to the observed increases in total precipitation.[2][8][9][10][11]
Modeling studies consistently suggest that the frequency and intensity of severe storms in the United States could increase with climate change, particularly over the Midwest and southern Great Plains during spring.[12][13][14][15]
Observations consistent with climate signals #1
---
More intense rainfall events and regional increases in precipitation linked to climate change are increasing the risk of extreme runoff and flooding in some locations. Precipitation is a major driver for river discharge trends and for changes across annual and decadal time scales.
Observations consistent with climate signal #2
---
Global warming affects snow and ice cover by increasing the amount of precipitation falling as rain instead of snow and by hastening snowmelt.
In Nebraska, snow cover has decreased, in part because of warmer temperatures causing earlier melt and increasing the amount of precipitation that falls as rain rather than snow.[22]
A climate change fingerprinting study looking at Northern Hemisphere snow cover extent found that it has decreased primarily due to the earlier onset of spring since the 1970s,[23] and that this decrease is at least partially driven by climate change.[24] As climate change leads to earlier snowmelt and more precipitation falling as rain instead of snow, the risk of major floods increases.
Observations consistent with climate signals #3
---
When wacky weather strikes, it's always the jet stream that's causing it. The jet stream is responsible for almost all weather in the U.S., except for the formation and intensity of tropical storms and highly local effects. The jet stream is powered by the temperature difference between the Arctic and the mid-latitudes, and this difference is shrinking as the Arctic warms. Scientists suspect this may be making the jet stream slow down and meander, rather than speeding around the planet as it usually does. A slower, more meandering jet stream leads to more persistent weather patterns, which can cause record temperatures and precipitation.
During the spring of 2019, the Arctic has been much warmer than normal, especially on the Pacific side. This leads to a stronger ridge in the eastern Pacific and can cause the entire pattern across North America to stick around well beyond its welcome.
Observations consistent with climate signals #4 and #5