'My neighbors are gone': Flood buyouts upend Missouri town



 United States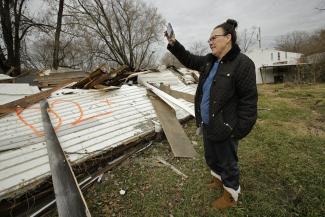 Tammy Kilgore raised the giant claw of a John Deere excavator high in the air, then slammed it down on the roof the house where she had spent nearly her entire adult life.
The shingles crunched, but not much else. So she did it again, and again — each time taking a bigger bite with the mouth-like claw, until the roof above her bedroom caved. Lumber and siding fell to the ground.
"Oh, my goodness!" she exclaimed.
The machine's operator had given Kilgore the chance to start demolishing her own home. It's one of dozens of flood-prone houses being torn down in this small riverside town northeast of Kansas City under a federally funded buyout program intended to reduce the risks and costs from future flooding.
The city of Mosby estimates it's faced 40 floods of varying severity over the past two decades, and Kilgore has lost count of the number of times her home got wet.
"Every time it would come up, it would probably ruin our floors," she recalled. "We just got tired of it."
When the voluntary buyouts are complete, nearly half of Mosby will be gone, leaving a patchwork of holdout homes and bare lots.
Similar buyout programs have played out in numerous communities ravaged by floods and hurricanes. Over the past three decades, federal and local governments have spent more than $5 billion to buy tens of thousands of vulnerable properties across the U.S., according to an Associated Press analysis.
While buyouts can be emotionally fraught for communities, they can lessen future flood-related costs by demolishing homes that could otherwise keep receiving federal disaster aid or taxpayer-subsidized flood insurance.
This year's devastating flooding in the Midwest, which caused billions of dollars of damage in more than a dozen states, is likely to lead to more home buyouts.
In Iowa, for example, a dozen cities and counties have inquired about the potential of buying out as many as 660 properties. In the future, more buyouts could be necessary nationwide as climate change leads to rising seas and more frequent and intense rainstorms.