Millions under flood threat in Carolinas
,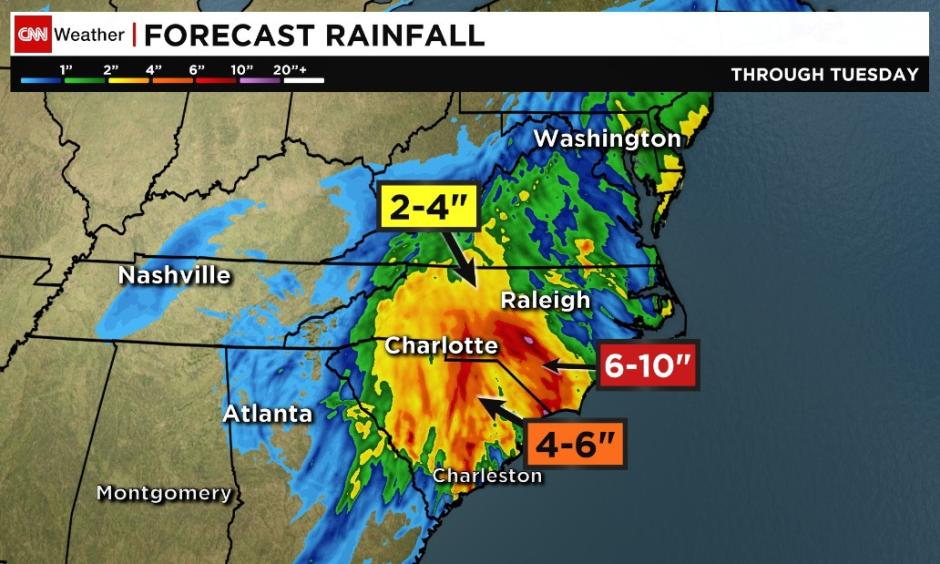 The Carolinas and Mid-Atlantic states are bracing for a round of strong thunderstorms and the threat of flash flooding.
A system of storms carrying heavy rain that left hundreds of roads flooded in eastern Tennessee over the weekend is slowing moving northeast.
Nearly 6 million people are under flash flood watches and warnings as the storm slowly moves northeast, the National Weather Service said.
...
Over the weekend, storms carrying about 2-4 inches of rain caused flash flooding in areas parched from drought in Tennessee and southwestern Virginia.
Schools in more than a dozen districts in eastern Tennessee and southwest Virginia are closed Monday to ensure safety as the water recedes.
Roads were flooded around several schools, storm drains were nearly full and water was flowing into a school's cafeteria Sunday near Knoxville.
Tim Parrott, director of Anderson County Schools, said it's uncommon for them to cancel classes due to flooding.
...
Heavy downpours over the weekend also caused a landslide on US Route 441 in Anderson County. The highway was closed for about five hours on Sunday, CNN affiliate WVLT-TV reported.