With More Than 300 Tornadoes, It's the Most Active Start to a Year Since 2008
,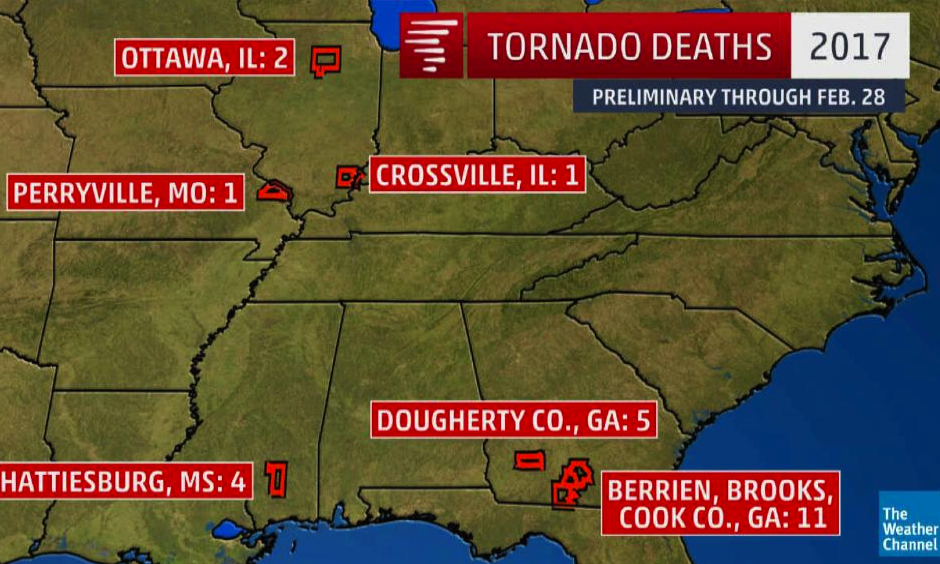 A series of outbreaks that began in January has propelled the preliminary 2017 U.S. tornado count to its highest level for mid-March in nearly a decade.
Two dozen people have lost their lives from tornadoes so far this year, and the waves of severe weather have contributed to economic losses of more than $2 billion.
The preliminary tornado count for the year was 309 through March 20, according to Dr. Greg Forbes, severe weather expert at The Weather Channel. That is the largest number of tornadoes to this point in the season since March 2008, which had 327 tornadoes by that date.
The red dots are preliminary reports of tornadoes from NOAA's Storm Prediction Center through March 20, 2017. (NOAA)
January's tornado count of 133 was more than triple the 20-year average of 40 for that month. A preliminary count of 112 tornadoes have touched down so far in March, and that already exceeds the entire month's 20-year average of 76.
For the year as a whole, the tornado count through mid-March in the U.S. was more than double the 20-year average to that point of 111.