More Locally Heavy Rain For Flood-Weary Texas This Week



 United States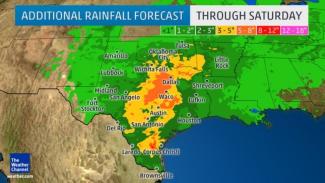 There is no rest for the rain-weary over parts of Texas. Several significant rain events have produced flooding across the region in recent months...
Another round of heavy rain inundated the Lone Star State over the past several days, resulting in even more flooding...
A southward dip in the jet stream, or trough, has moved into the southwestern U.S. This pattern has repeated itself several times in recent months resulting in many heavy rain and flooding events for parts of Texas...
As of Tuesday night [May 31], the following locations have set their wettest March-May:
Austin-Bergstrom Airport: 26.11 inches
College Station-Bryan: 22.78 inches
San Angelo: 14.83 inches
Also, both Abilene (17.08 inches) and Houston (24.84 inches) have chalked up their second wettest spring on record. Houston's two wettest springs have now been in consecutive years (26.61 inches at Bush Intercontinental Airport in 2015...
Over 18 inches of rain hammered the official reporting station in Brenham, Texas, about 65 miles west-northwest of downtown Houston, according to the National Weather Service (NWS). That set a new 24-hour rainfall record for the location