Mudslides, snow, and flash floods: an atmospheric river is soaking California



 United States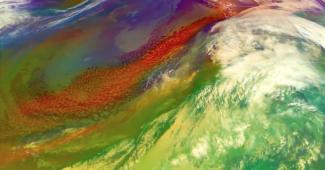 A massive, gushing river in the sky — a mile high, more than 300 miles wide, and carrying up to 15 times the amount of water in the Mississippi River — is now drenching huge swaths of the West Coast. This phenomenon, known as an atmospheric river, has already brought more snow to northern California in a day than parts of New England have seen all winter.
The current storm system is not a Pineapple Express, an atmospheric river that originates over Hawaii (hence "pineapple"). Instead, it originates a bit further south and east of Hawaii, so it doesn't get to share the same branding. (Last year, two Pineapple Expresses made stops in California.)
However, the mechanism behind the Pineapple Express and the current atmospheric river is similar. Such rivers occur when plumes of moisture over the Pacific Ocean start to mesh with a larger storm system. Sometimes years can go by without an atmospheric river, and sometimes several can occur in a single season.
A massive volume of precipitation soaking the West Coast all at once can be dangerous. Officials in California are already warning residents of flash flooding as rainfall starts to immerse some of the ordinarily drier parts of the state. On Wednesday, Sacramento broke a daily rainfall record with a 1.6-inch downpour over 24 hours. The prior record was 1.22 inches. There are also mandatory evacuations in Orange County.
A key concern for California right now is mudslides. After back-to-back years of expansive, record-breaking wildfires, many areas of the state are denuded of the vegetation that would ordinarily anchor the soil in place. But even areas that haven't seen fires recently are vulnerable. Sausalito, California, saw five inches of rain in the past 24 hours, which triggered a mudslide in the hilly Bay Area town and forced people to evacuate at least 50 homes.