Near-Average 2018 Atlantic Hurricane Season Expected, According to The Weather Company Outlook
,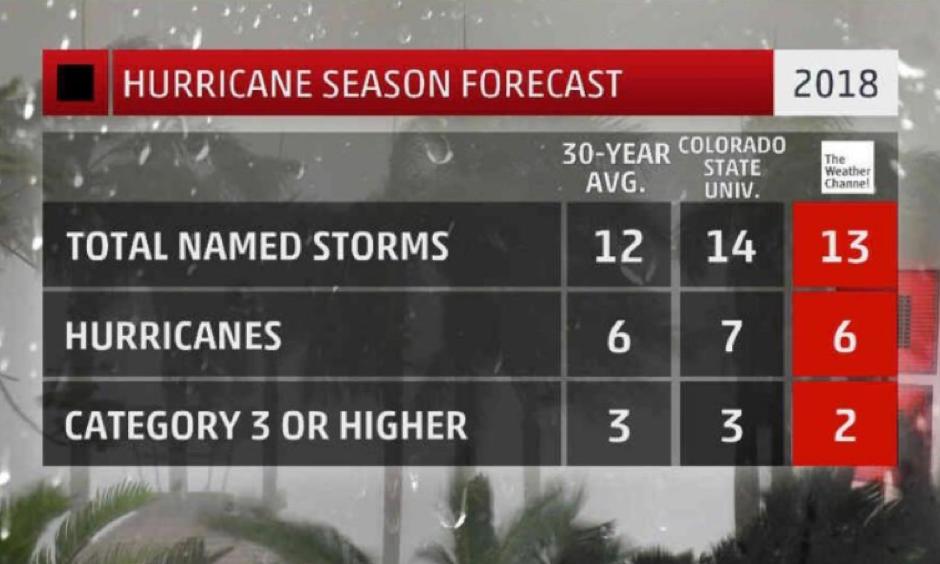 The updated forecast is near the Atlantic Basin's 30-year historical average (1981-2010) of 12 named storms, six hurricanes and three major hurricanes and slightly less than the Colorado State University outlook released earlier this month.
There are several reasons forecasters are calling for these near-average numbers in 2018:
1. Atlantic Ocean Temperature Patterns
A pattern of cooler-than-average water temperatures has developed in the eastern Atlantic and, to a lesser extent, in the central northern Atlantic.
The Weather Company compared anomalies in April for inactive vs. active hurricane seasons and found that the current pattern more closely represents inactive hurricane seasons.
Keep in mind, it isn't anomalous water temperatures that create or hinder tropical cyclone development, but rather actual temperatures that affect tropical storms and hurricanes.
Temperatures in the space between the Lesser Antilles and Africa are supportive for tropical growth nearly year-round, but the warmer the water in that region, the more likely a tropical cyclone is to develop there, all other factors (wind shear, atmospheric moisture, forward speed, etc.) held constant.
Should this pattern of cooler-than-average ocean temperatures continue into the heart of hurricane season (August, September and October), we can expect less tropical activity west of Africa.
...
4. The Multi-Decade Long Upward Swing in the Tropics Might Be Over
The tropics have long-period upward and downward swings in activity called the Atlantic Multidecadal Oscillation (AMO).
The current period of increased activity began in 1995 and has housed monster seasons like 2004, 2005 and 2010. Prior to that, from 1965 through 1994, far fewer Atlantic hurricanes were produced each year.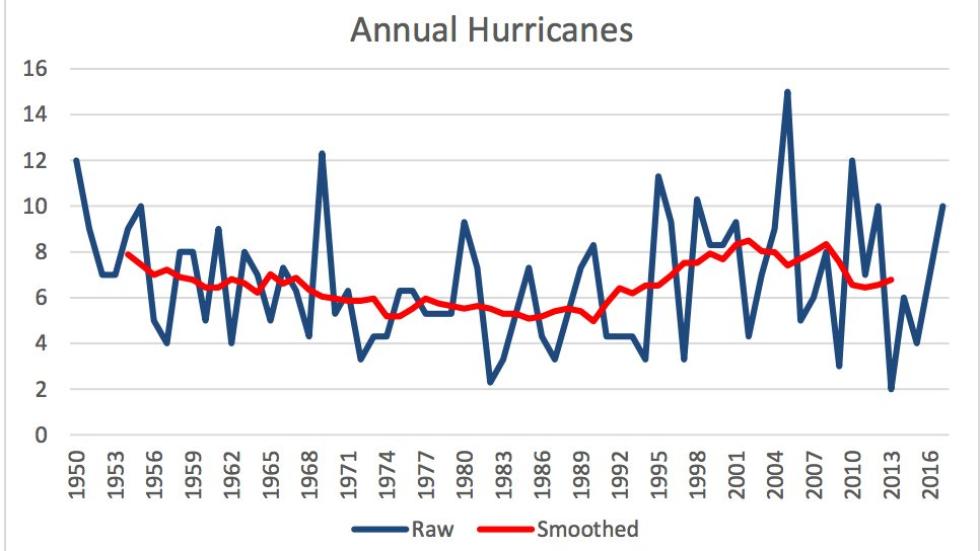 The periods of increased and decreased activity last 20 to 40 years each and are a result of changes in the system of oceanic currents in the northern Atlantic Ocean.
The AMO is the climate background that all other climate and weather patterns build on in the Atlantic, including El Niño.
...
What Does This Mean For the United States?
There is no strong correlation between the number of storms or hurricanes and U.S. landfalls in any given season.
Residents near the coast should prepare each year, no matter what seasonal outlooks say.
A couple of classic examples that show the need to prepare each year occurred in 1992 and 1983.
The 1992 hurricane season produced only six named storms and one subtropical storm. However, one of those named storms was Hurricane Andrew, which devastated South Florida as a Category 5 hurricane.
In 1983, there were only four named storms, but one was Hurricane Alicia. The Category 3 hurricane hit the Houston-Galveston area and caused almost as many direct fatalities along the Texas coast as Andrew did in South Florida.