'Out of control' Southern California fire explodes overnight, forcing thousands to flee



 United States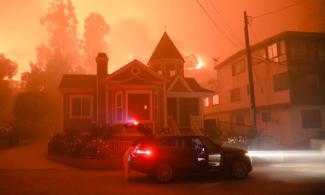 An explosive brush fire raced through Southern California with ferocious speed Tuesday, spreading from about 50 acres to an estimated 31,000 acres in a matter of hours, forcing thousands of residents to flee and leaving at least one person dead.
Named the Thomas Fire, it began in a canyon near Santa Paula, about 65 miles northwest of downtown Los Angeles. By 4 a.m. Pacific time, the fire had advanced into the city limits of Ventura, with a population of more than 100,000, emergency officials said.
...
The Ventura County Fire Department issued a dire warning early Tuesday, saying conditions were expected to worsen. "Incident commander reporting winds are increasing, expect fire behavior to increase over the entire incident," a department spokesperson tweeted.
One person was killed in a car crash while trying to evacuate, Ventura County Fire Chief Mark Lorenzen said at an overnight news conference.
The fire has destroyed at least 150 structures, according to the department, which said at least one firefighter has been injured in the blaze.
...
Firefighters were also said to be responding to a brush fire in Los Angeles County early Tuesday. According to the National Weather Service, that fire — dubbed the Creek Fire — broke out across the county's foothills in an area northwest of Pasadena. A spokesman for the Los Angeles County Fire Department posted on Twitter that the three-alarm blaze had prompted mandatory evacuations.
Early Tuesday morning, officials said 500 firefighters were on the scene of the Thomas Fire with more resources heading there, along with scores of law enforcement officers responding to help with evacuations and road closures.
...
A mixture of dry foliage from a continued drought, low humidity and sustained winds of more than 30 miles per hour throughout the evening led to its explosive growth, according to Buschow. Some outlets reported the winds exceeded 50 mph.