Record Flooding in Nebraska, Iowa, South Dakota, Wisconsin, Minnesota and Illinois Follows Snowmelt, Bomb Cyclone



 United States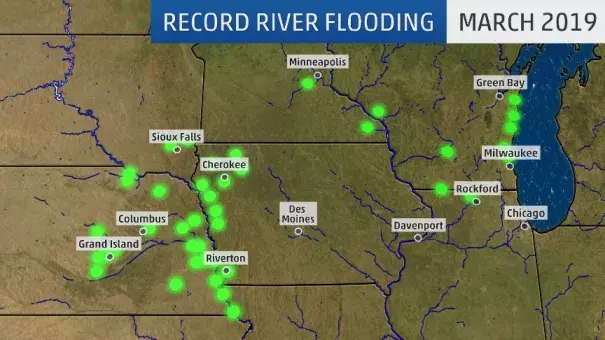 Record river flooding plagued six states in the Plains and Midwest after rapid snowmelt and heavy rain from the bomb cyclone, and ice jams hammered the nation's heartland.
In total, 42 locations set new record river levels, mainly in the Missouri Valley from southeastern South Dakota into Nebraska and western Iowa, but also in parts of Wisconsin, Minnesota and northern Illinois.
Among these included locations along the Missouri River south of Omaha, Nebraska – Plattsmouth, Nebraska City, Brownville and Rulo – each topping their previous record crests from the June 2011 Missouri Valley flood.
The flooding shut down numerous roads in northwest Missouri, western Iowa and eastern Nebraska, including stretches of Interstate 29.
Elsewhere in Nebraska, record flooding was observed along the Platte River at Ashland, Leshara and Louisville, west and southwest of Omaha. Early on March 16, the Platte levee was overtopped near Thomas Lakes, just north of Ashland. The Elkhorn River at Waterloo crested about 5.5 feet above its previous record crest from March 1962.