Why Is There Flooding in Nebraska, South Dakota, Iowa and Wisconsin?
,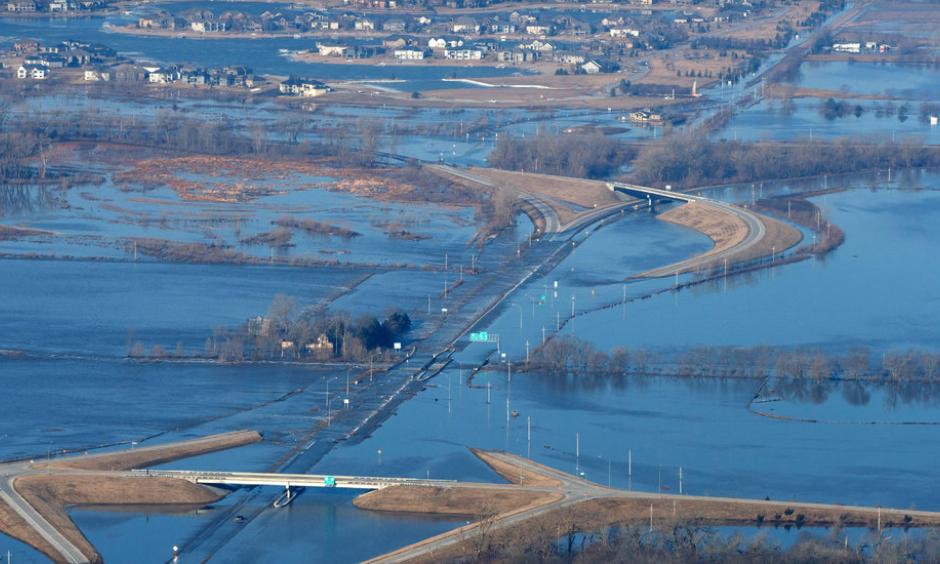 A historic snowy winter is turning into record spring flooding across a wide area in the middle of the United States, as major rivers spill over their banks, break levees and inundate towns and farms. The governors of Nebraska, South Dakota, and Wisconsin have declared emergencies, and Iowa's governor has issued a disaster proclamation. At least two people in Nebraska have died in the floodwaters, and two others are missing.
...
Rain was the immediate cause. The Weather Service's Omaha office recorded 1.37 inches last week; more fell to the north and west, with Norfolk, Neb., getting 2.27 inches Tuesday, Wednesday and Thursday.
That isn't all that much by itself, though it is more than the area usually gets at this time of year: Omaha, which averages less than an inch of rain in all of March, already has had 2.15 inches this month.
...
The snowpack began to melt the weekend of March 9 and 10, leading to widespread snowmelt of two to three inches in many places and four inches in isolated spots, according to the National Weather Service. Some places had the equivalent of six inches of water in 24 hours, Mr. Low said.
"This would not have been historic if we had not had the two inches of rain on top of that," he said. "We would have had some minor-to-moderate flooding. Instead, we have 30 locations that hit records in central and eastern Nebraska, and northwest Iowa, including two locations on the Missouri River itself."
Under models of climate change, a warmer atmosphere can hold more water, and thus the likelihood of intense inundation increases.