Record highs Friday as heat wave continues
Flagstaff, AZ
Phantom Ranch Road, Sahuarita, AZ
Cottonwood, AZ
Castle Hot Springs Rd, Morristown, AZ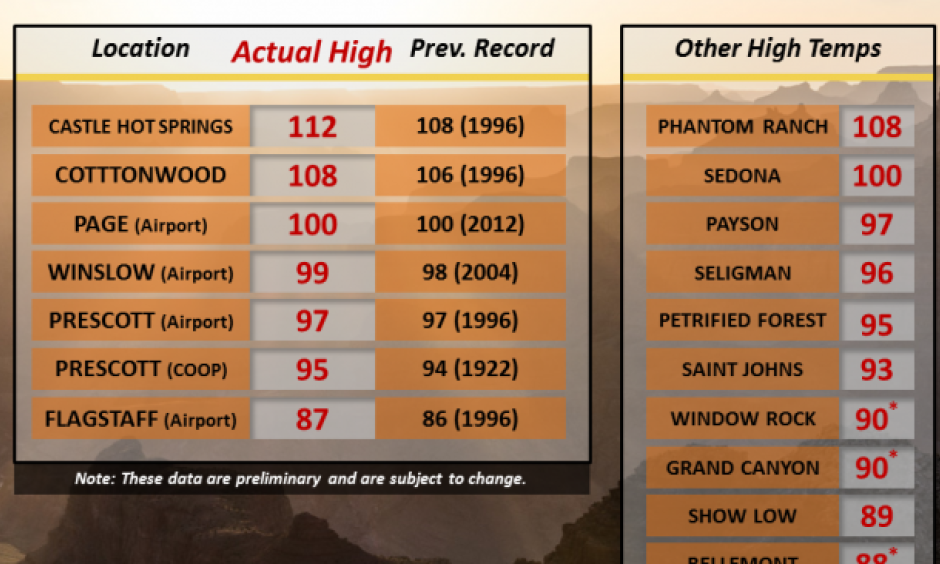 Records fell across northern Arizona Friday as Day 1 of a three-day heat wave settled over much of Arizona and the Southwest.
According to the National Weather Service, Castle Hot Springs in the Verde Valley hit 112 degrees, while Cottonwood and Phantom Ranch each topped out at 108. Also hitting triple digits were Sedona and Page, each at 100.
Flagstaff was almost cool by comparison -- it topped off at 87 degrees, still breaking the record set in 1996 by 1 degree...
The severity of the heat wave in the forecast is also putting Southwest desert areas under an excessive heat warning...
National Weather Service Meteorologist Clay Morgan said the heat impact level, which considers the temperature and duration of such soaring degrees, prompted the warning. Gradual temperatures help the body get acclimated, so a sudden upswing and a steep climb in a short period can exacerbate health risks and the potential for heat exhaustion, stroke and even death