Record Southern California dry streak to end abruptly with strong storm; serious flood risk near Thomas Fire
by
The California Weather Blog
,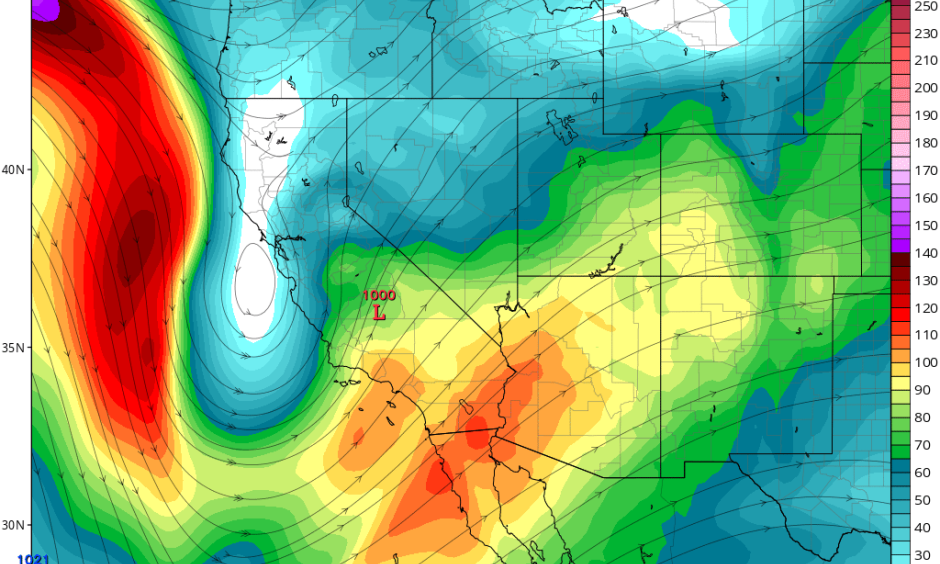 As many Southern Californians are acutely aware, it has barely rained at all in this part of the state since February 2017. Despite the fact that winter 2016-2017 was fairly wet overall in SoCal (and near-record wet further to the north), the Pacific moisture stream shut off pretty abruptly by March–and the rains have yet to return to now-parched Southern California. In fact, the past ~300 days have been the driest such period on record across most of Southern California–including in Los Angeles proper, where the 0.69 inches of accumulated precipitation over that interval shattered the previous March-December record of 1.24 inches. Amidst this record dry spell, widespread (and late-season) record warm conditions have been reported–a combination that helped cause California's most destructive fire season on record (the Thomas Fire, now California's largest wildfire in modern history, is still not yet 100% contained as of January 7). As discussed in my last post, the cause of these record dry and warm conditions in SoCal has been the persistence (once again) of an unusually strong ridge of high pressure near the West Coast.
...
Well, I have some good news (for most folks) and some bad news (for anyone living near the numerous recent wildfire burn scars in the state): rain will finally be returning, in fairly dramatic fashion, over the next 24 hours to the entire state. An impressively strong storm system is currently taking shape off the California coast, fueled by a burst of jet stream energy that has finally broken through the persistent West Coast ridge.
...
While under normal circumstances this storm system would be a largely positive development–bringing much-needed water to parched Southern California–very recent severe wildfire activity will present a high risk of serious, perhaps life-threatening conditions in some places. The region of greatest concern is the region within and near the Thomas Fire burn scar in Ventura and Santa Barbara Counties. The region burned by this wildfire is enormous (around 275,000 acres, or 425 square miles) and extends across vast tracts of wilderness, agricultural lands, and even some urban areas on the margins of Santa Barbara, Ventura, Santa Paula, and Ojai. The confluence of very high burn intensity on the steep slopes above the Ojai Valley, plus a substantial human population in the town of Ojai itself, presents an especially high level of concern. But even areas miles away from the primary burn areas many see significant flood-related impacts from this intense storm event.