Red Cross Helping Texas After Relentless Flooding Hits the Beleaguered State Again



 United States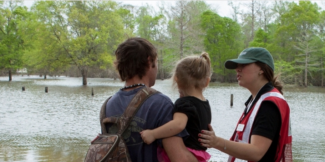 Volunteers from the American Red Cross are responding to the devastating flooding occurring in Texas after some parts of the state received 19 inches of rain over the holiday weekend. Since the beginning of the year, numerous storms have ravaged the state, displacing thousands of families and devastating homes and businesses.
Over the weekend, Brenham, Texas, located about 65 miles northwest of Houston, received 18 inches of rain in a 24-hour period. Houston, which has been hammered with severe weather and flooding for several months, was again in the storm's path and people were forced to leave their homes. The threat isn't over – weather experts predict flooding will continue for several more days. Emergency officials estimate that some 6,000 homes may be affected...
"This part of the country has been hit with multiple disasters for months now, and the Red Cross has been helping from day one," said Brad Kieserman, vice president, Disaster Services Operations and Logistics for the Red Cross. "We have nearly 300 Red Cross workers on the ground or on their way to help people in Texas. Our volunteers will remain in these communities in the weeks ahead to make sure people get the help they need"