As rising Mississippi River levels crack 10 highest on record, St. Louis officials (nervously) eye rainy forecast ahead
,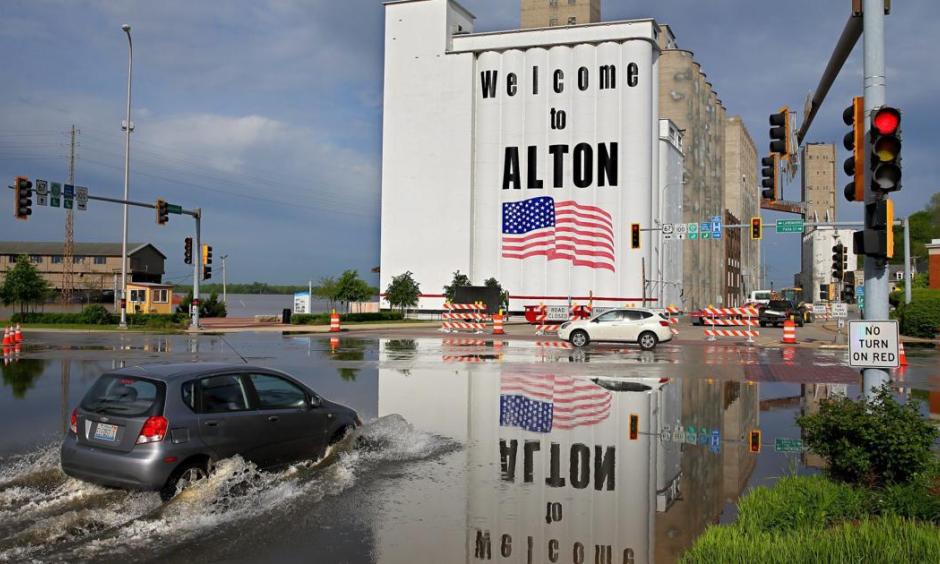 While the main stem of the Mississippi River has been above flood stage since March, the latest swelling comes after swaths of the St. Louis region saw more than six inches of rain in the past week. That precipitation joined a watershed that was already saturated.
"It was set up in March, of course, by snowmelt and rain, but now that snow is pretty much all in the system and getting flushed downstream," said Mark Fuchs, a senior service hydrologist for the St. Louis forecast office of the National Weather Service. "What we're seeing now is rain getting added to that base."
...
Though high, flood levels in other areas downstream are not as close to rivaling the record heights experienced in 1993, Fuchs said. That's mainly because the Missouri River is not as high as it was that year — a situation that not only adds volume downstream, but can also cause backflow upstream from its confluence with the Mississippi River. That backflow can affect areas such as Alton and Grafton and extend about 100 miles north through the gentle slope of the Illinois River.
...
Climate change also contributes to rising flood risk, with extreme precipitation becoming increasingly common, according to the National Climate Assessment. But some heap blame on sprawling levee systems for the emerging routine of more frequent major floods.
"This recurring flooding is a man-made problem," according to Bob Criss, a professor at Washington University's Department of Earth and Planetary Sciences, speaking last month to environmental journalists. "There's nowhere for the water to go when it rains, and the water's getting higher and higher."
Without taking the developing crest into account, three of the eight highest flood levels recorded at St. Louis have occurred since 2013, and five of those have happened since 1993. This event will add another recent chapter to the books.