Saharan Dust From Africa Brings Hazy Skies to Texas Gulf Coast
,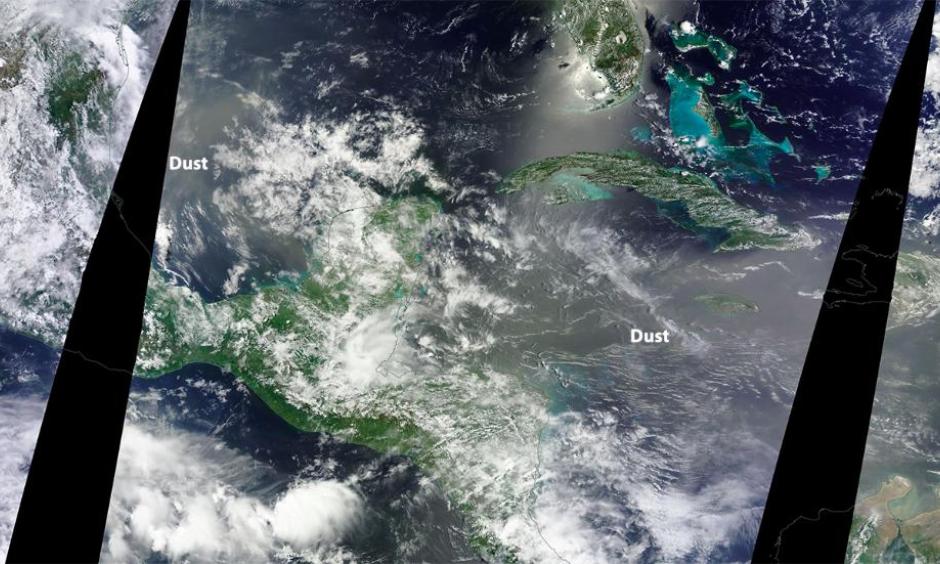 Plumes of dust from the Sahara Desert frequently make a 5,000-mile-long voyage to parts of the United States and the air that lofts these particles can have a big impact on the Atlantic hurricane season.
Known as the Saharan air layer (SAL), this dry, dusty air mass pushes westward off Africa into the tropical Atlantic Ocean about every three to five days from late spring through early fall.
...
It's not yet well understood if and how the dust itself plays any significant, direct role on tropical cyclones, according to [Jason Dunion, a tropical scientist with NOAA's Hurricane Research Division].
"Some studies have suggested that it (the dust) can affect how clouds and precipitation actually form."
...
Dunion and [Christopher Velden of the Univerisity of Wisconsin's Space Science and Engineering Center] found SALs have three main negative influences on tropical systems:
1) Dry air can enhance downdrafts (sinking air) suppressing convection around the system.
"Any convection that kicks off quickly reaches the bottom of the SAL and then entrains this dry air," says Dunion.
2) Its associated stronger easterly winds aloft can increase wind shear, tilting or outright displacing the convection aloft from its low-level circulation.
Dunion said a 30-50 mph jet hiding up in the SAL is almost always embedded along the southern edge of the SAL.
3) Its sinking air can intensify the so-called trade-wind inversion, essentially, a cap on the development of showers and thundershowers sometimes in play in the tropics