Severe flooding in NC breaks more than a dozen USGS peak records
,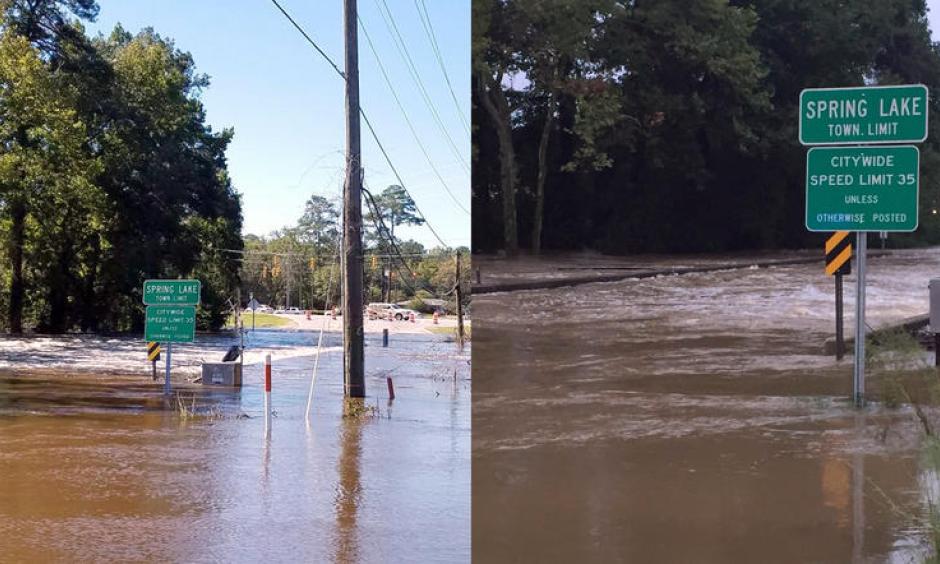 Just days after Hurricane Matthew made its approach up the east coast, North Carolina is still feeling impacts from the storm as severe flooding has hit much of the central and eastern parts of the state.
The heavy rains brought by Hurricane Matthew caused flooding that has been intensified due to rain events prior to Matthew that had many rivers across the central and eastern parts of the state already running at above normal streamflow levels. For instance, the community of Spring Lake witnessed period of record flooding in late September, only to have that peak broken again this week.
"We've seen peak streamflow records broken for at least 14 sites in North Carolina, said Jeanne Robbins, USGS hydrologist. "But, it is important for people to understand the waters are still rising in some areas, and we could see more records."
Period-of-record peaks associated with rainfall from Hurricane Matthew were seen in the Neuse, Cape Fear and Lumber River Basins as of Wednesday afternoon. However, some sites on the Lumber, Tar, Neuse and Cape Fear Rivers are still rising. The Neuse River near Goldsboro is peaking at about 29.7 feet, which surpassed the Hurricane Floyd peak of 28.85 feet, and downstream the waters are still on the rise. The Neuse River in Kinston, North Carolina, which is a site with records dating back to 1919, is currently reporting a river height of almost 24 feet and the Southeast River Forecast Center is forecasting a crest of 28 feet. If the river was to reach this projected crest, it would surpass the 27.71 feet record previously set by Hurricane Floyd in 1999.