Snowfall in Many Northeast Megalopolis Cities on Pace to Be Among Lowest on Record
New York, NY
Boston, MA
Philadelphia, PA
Washington, DC
Allentown, PA
Harrisburg, PA
Islip, NY
Blacksburg, VA
Lynchburg, VA
Roanoke, VA
Wilmington, DE
Atlantic City, NJ
Salisbury, MD
,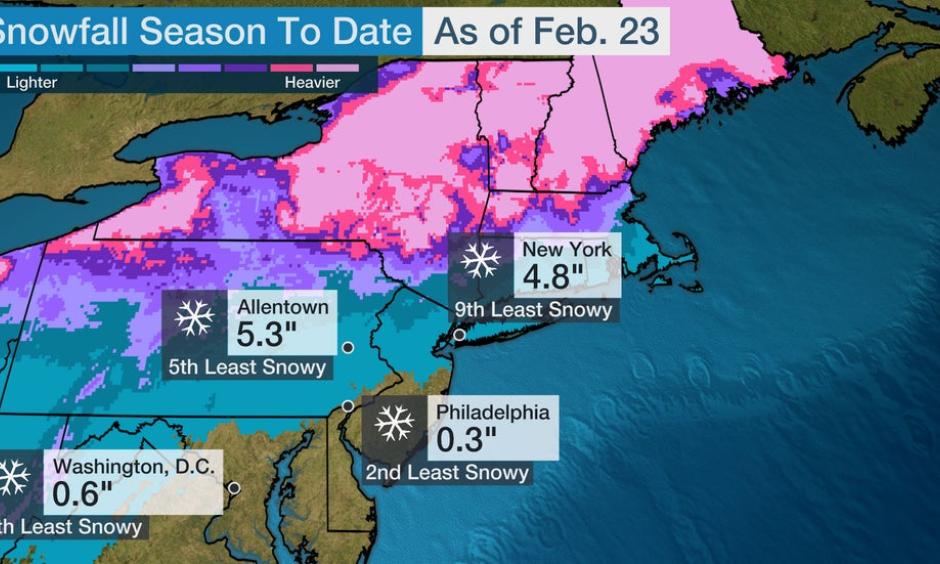 Climate Signals Summary: Warmer temperatures from climate change can cause more precipitation to fall as rain rather than snow.
---
Article Excerpt: Many of the major cities in the northeastern United States have escaped the winter relatively unscathed so far, with seasonal snowfall totals to date nearing record lows in New York City, Philadelphia and Washington, D.C.
Through Sunday, Philadelphia had picked up a measly 0.3 inches of snow this entire winter, making it the second-least-snowy winter so far in the city's history. Most of that snow (0.2 inches) fell on Jan. 18, and no snow has been measured since then. The other 0.1 inches was recorded on Dec. 11.
...
The nation's capital had received 0.6 inches of snow through Sunday, ranking as the fourth-least-snowy season to date. Half of that fell on Dec. 11, while the other half fell on Dec. 16 (0.1 inches) and Jan. 18 (0.2 inches).
Although less than an inch of snow has fallen all season in Philadelphia and Washington, D.C., New York City has picked up 4.8 inches so far. Despite receiving 16 times more snow than Philly and eight times more than Washington, this winter still ranks as the ninth-least-snowy to date in the Big Apple.
...
Other Northeastern cities that are having one of the 10 least-snowy winters to date include Allentown and Harrisburg, Pennsylvania; Islip, New York; Blacksburg, Lynchburg and Roanoke, Virginia; Wilmington, Delaware; Atlantic City, New Jersey; and Salisbury, Maryland.
Boston is not having one of its 10 least-snowy winters to date, but it was still 17.1 inches below average as of Sunday. Including Monday, Beantown had six days with high temperatures of 60 degrees or warmer since Dec. 1. Two of those days were back-to-back 70-degree days, including an all-time January record high of 74 on Jan. 12.
Low-pressure systems this winter have either moved too quickly out into the Atlantic without strengthening close to the East Coast, or they have tracked farth