Spring has arrived weeks early in the South. Flowers are blooming, and that could be a problem.
Charlottesville, VA
Knoxville, TN
Nashville, TN
,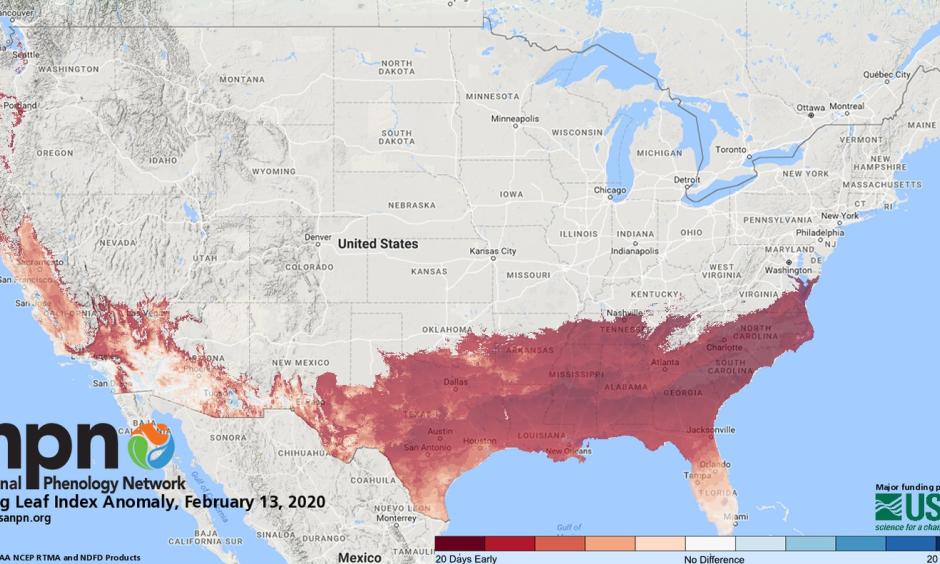 Climate Signals Summary: Climate change is increasing temperatures in all seasons, and is leading to shorter and warmer winters, as well as earlier springs.
---
Article Excerpt: Thanks to an abnormally warm winter, green leaves are sprouting and flower buds are bursting weeks early across the Southeast this year. Spring has sprung prematurely, and depending on the weather during the next two months, this could have detrimental effects on this vegetation.
In several other recent abnormally mild winters, vegetation has emerged early only to be heavily damaged by brutal invasions of cold in early spring, which has come at a large cost to agriculture.
A similar scenario is setting up for another devastating frost, on the heels of what is known as a "false spring." The warmth across much of the Lower 48 states has been exceptional, with most locations in the southern and eastern third of the United States seeing one of their top 10 warmest winters on record to date, as if skipping ahead a season.
...
In 2017, abnormally warm conditions in February resulted in many species flowering prematurely in the Southeast and Mid-Atlantic. Then a severe frost hit in mid-March. South Carolina lost 85 to 90 percent of its peach crop. In parts of Georgia and North Carolina the blueberry crop was "devastated." In Washington, about half of the cherry blossoms were damaged.
...
The 2007 false spring and ensuing early April frost resulted in $2 billion in economic damage in the Southeast.
Rising winter temperatures from human-caused climate change would seem to increase the likelihood of false springs in the future. However, the rising temperatures would also potentially decrease the intensity or even eliminate the occurrence of killer frosts that might follow.
Studies that have analyzed how false springs might change in the future have shown mixed results. The 2013 Eos study projected climate warming would "dramatically increase the future risk of false springs." But a 2014 study in Geophysical Research Letters indicated "observed decreases in false springs are consistent with a warming climate." A 2015 study in Environmental Research Letters concluded: "global climate change may have complex and spatially variable effects on spring onset and false springs, making local predictions of change difficult."