There's Way Too Little Ice Around Svalbard Right Now



 Svalbard & Jan Mayen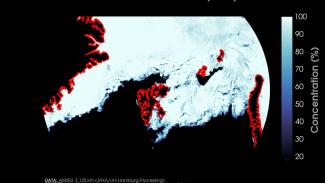 When we last checked in with ice in the north, the picture was, uh, not good! The Bering Sea had lost all of its ice roughly a month ahead of schedule. Now there's a meltdown taking place on the other side of the Arctic.
Ice around Svalbard, a Norwegian island that sits between the Greenland Sea to the west and Barents Sea to the east, has receded rapidly over the past few weeks. Zack Labe, a PhD candidate at University of California, Irvine, told Earther the current ice coverage "is even less than the average September minimum."
Arctic sea ice hit its second-lowest maximum on record this year after four years in a row of record lows. That left it in an already weakened state for the melt season, which usually sees icepack bottom out in September. But this melt season is already in exceptional territory around Svalbard with four more months to go.