Tornado Outbreak Death Toll Ranks as Highest For January Since 1969
,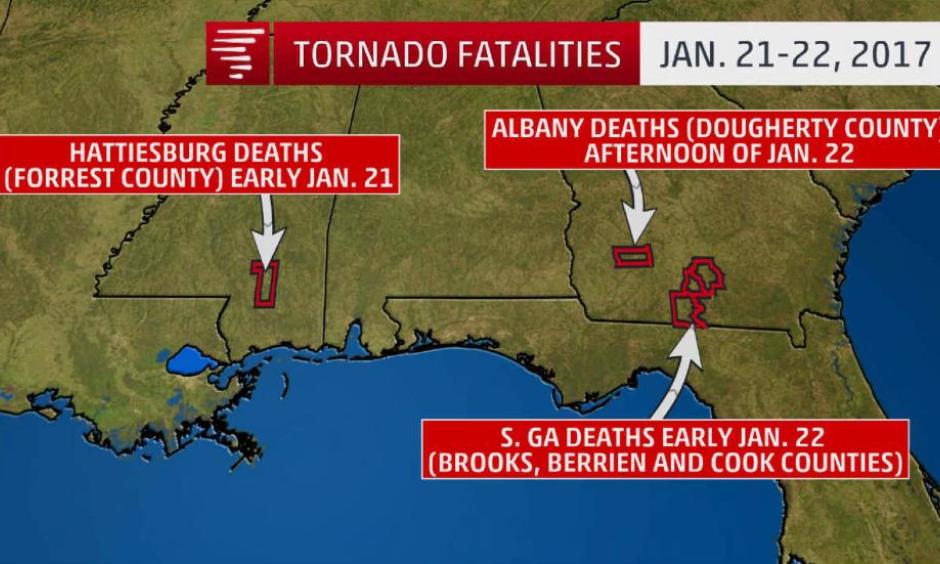 Following last weekend's severe weather outbreak, this month is already the deadliest for tornadoes in any January since 1969. The number of tornado-related deaths in those two days also exceeds what was seen in all of 2016.
...
No other January has had more tornado deaths since 1969, when 32 were killed, according to the Storm Prediction Center. More recently, 18 fatalities were caused by tornadoes in January 1999, which 2017 now exceeded.
In just two days this month, the death toll from tornadoes in 2017 topped what was seen all of last year.
2016 was a below-average year for both tornadoes and tornado deaths. A total of 17 people were killed by tornadoes during the entire calendar year, the SPC says. That was the second-fewest tornado deaths in a year on record dating to 1940.
For comparison, an average of 70 tornado-related deaths have occurred annually from 1986 to 2015, according to data from NOAA.
The tornadoes that occurred over the weekend were right in the southern U.S. corridor where they are most likely during January when atmospheric conditions come together.