Tropical Storm Barry Could Hit the Gulf Coast With 'Unprecedented' Flooding. Climate Change Is Likely to Blame
,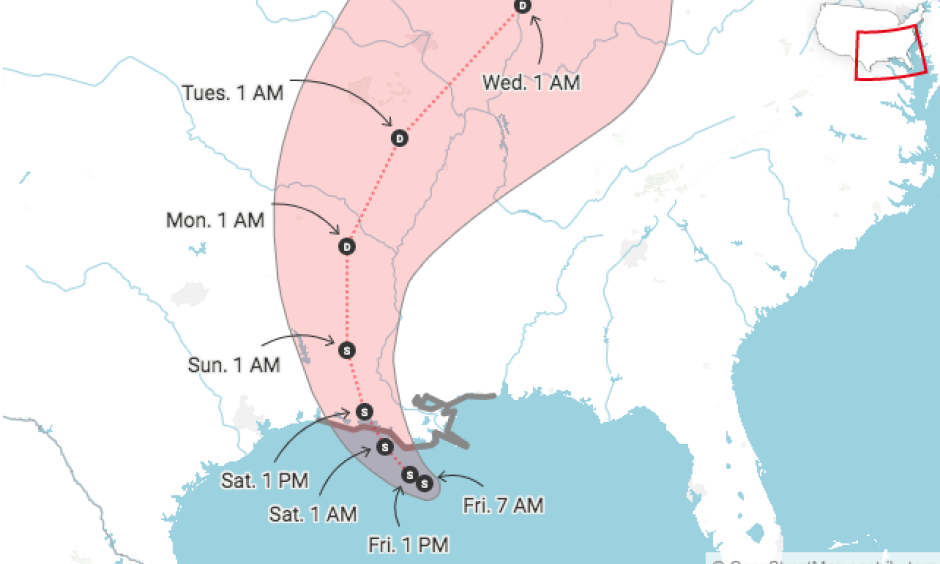 The Mississippi River is already bursting as a result of months of flooding in the midwest and south — and Tropical Storm Barry is about to make the situation more dire.
Although the storm is not expected to directly make landfall in New Orleans, and is instead projected to hit at least 85 miles to the city's west, its impact could still be devastating to a city where memories of Hurricane Katrina in 2005 still loom large. When Barry hits, officials say that the storm is likely to be "unprecedented" because it will cause three kinds of flooding all at once: a storm surge from the Gulf of Mexico, heavy rainfall and flooding in the swollen Mississippi and its western distributary, the Atchafalaya River.
Experts warn that the storm system and the Midwestern flooding are ominous signs of things to come. As climate change warms the atmosphere, particularly extreme weather events are likely to become more common. Some scientists also say that the warming climate is making the hurricane season longer.
Bren Haase, the executive director of the Coastal Protection and Restoration Authority, tells TIME that the situation is "unprecedented," noting that the Mississippi River is rarely this high during the hurricane season. In New Orleans, the Mississippi River is expected to reach its highest levels since 1950;the Achafalaya is expected to reach the third-highest crest on record.
"I would remind everyone this is the 258th consecutive day of the flood fight on the Mississippi River. That is the longest in history," Louisiana Gov. John Bel Edwards said at a press conference Thursday. "And if Tropical Storm Barry becomes a hurricane as we fully expect it will, this will be the first time that we've had a hurricane make landfall in Louisiana while the Mississippi River was at flood stage. And it isn't just the Mississippi. We have elevated river levels across Louisiana."