Tropical Storm Cindy Could Become America's Latest Flooding Nightmare
,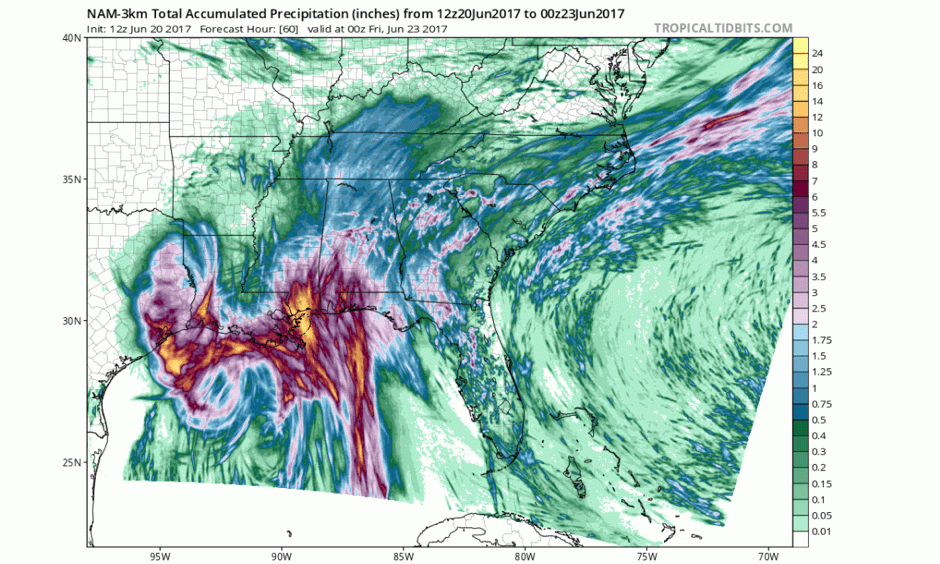 The Gulf Coast is preparing for the sort of rainstorm that is supposed to come only once in a lifetime.
...
Along the Gulf Coast, rainfall totals of 10 to 20 inches are expected, enough to max out the color scale on the National Weather Service's Excessive Rainfall Outlook. That much rain falling over a period of two or three days constitutes a one-in-50 to a one-in-200 year event. (As you might remember, Louisiana had a 500- to 1,000-year rainstorm just last year.) This week's rain will be falling on ground that's already soggy—parts of the Gulf Coast have already received about two to four times the normal amount of rainfall over the last 30 days, increasing the likelihood of a repeat disastrous flood.
...
If you're thinking that it's a bit early for storms like this, you're right: Cindy is already the third storm of this year's Atlantic hurricane season—a milestone that is normally not reached until mid-August.
...
As with virtually every weather event at this point, there's a clear link between Cindy and climate change. Since a warmer atmosphere can hold more water vapor (thanks to enhanced evaporation and other factors), rainfall rates during extreme events have become more intense. To prove the point, this morning, the atmosphere over New Orleans was the wettest it has ever been for the date. The one-in-200-year or one-in-500-year calculations include only historical rainfall data and don't take into account changing trends resulting from climate change. Weird rainstorms are happening more often now.