U.S. disaster aid won't cover crops drowned by Midwest floods



 United States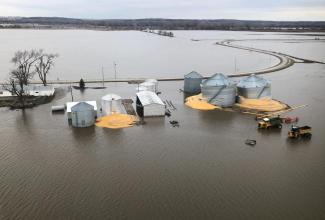 The Black Hawk military helicopter flew over Iowa, giving a senior U.S. agriculture official and U.S. senator an eyeful of the flood damage below, where yellow corn from ruptured metal silos spilled out into the muddy water.
And there's nothing the U.S. government can do about the millions of bushels of damaged crops here under current laws or disaster-aid programs, U.S. Agriculture Under Secretary Bill Northey told a Reuters reporter who joined the flight.
The USDA has no mechanism to compensate farmers for damaged crops in storage, Northey said, a problem never before seen on this scale. That's in part because U.S. farmers have never stored so much of their harvests, after years of oversupplied markets, low prices and the latest blow of lost sales from the U.S. trade war with China - previously their biggest buyer of soybean exports.
The USDA last year made $12 billion in aid available to farmers who suffered trade-war losses, without needing Congressional approval. The agency has separate programs that partially cover losses from cattle killed in natural disasters, compensate farmers who cannot plant crops due to weather, and help them remove debris left in fields after floods.
But it has no program to cover the catastrophic and largely uninsured stored-crop losses from the widespread flooding, triggered by the "bomb cyclone" that hit the region in mid-March. Congress would have to pass legislation to address the harvests lost in the storm, according to Northey and a USDA statement to Reuters.
"It's not traditionally been covered," he said. "But we've not usually had as many losses."
...
About 416,000 acres of cropland across six counties in Iowa were flooded, said Amanda De Jong, state executive director for the USDA Iowa Farm Service Agency.
Of that, about 309,000 acres will be eligible for the federal program that helps farmers and ranchers remove debris left by natural disasters on farmlands, De Jong said last week.