Weird Coastal El Nino Clobbers Peru: 80 Killed, $1.4 Billion in Damage
Av de Huachipa, Distrito de Lima
,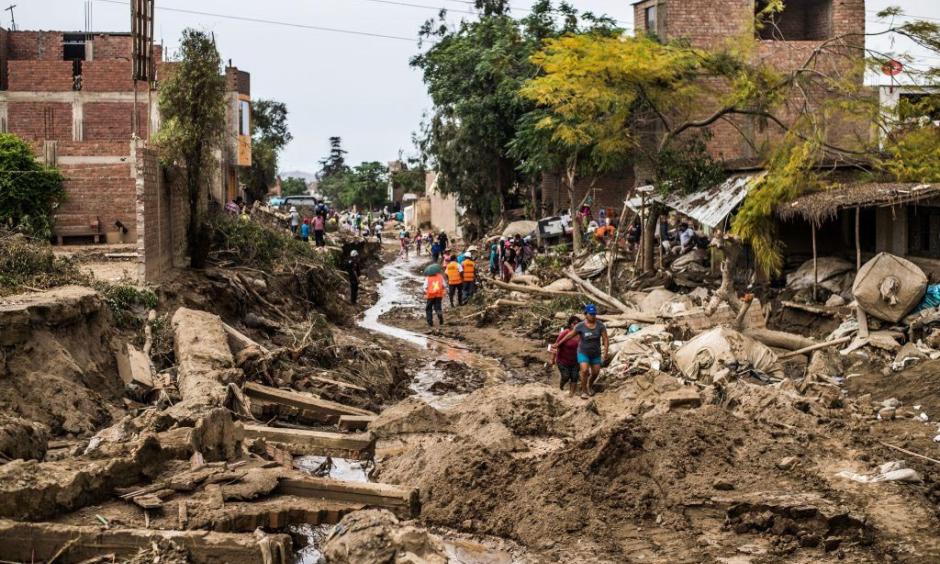 The world's costliest flood disaster of 2017 is still unfolding across parts of coastal Peru, where extreme rainfall atop normally dry terrain has led to episodes of major flooding over the last few weeks. More than 110,000 people have been displaced by flooding since December, according to Reuters, and more than 80 deaths have been reported.
The death toll makes the floods of 2017 Peru's deadliest floods since 2009 - 2010, when 158 people died in flooding between December and March. Preliminary damages from the 2017 rains and flooding in Peru are estimated at $1.4 billion (0.7% of Peru's GDP), according to insurance broker Aon Benfield. Significant damage has been done to Peru's infrastructure, with 2,188 kilometers (1,360 miles) of main roads and 928 kilometers (577 miles) of rural roads destroyed, along with 194 bridges. Approximately 671 kilometers (417 miles) of irrigation canals have been destroyed and as many as 23,000 hectares (56,000 acres) of crops damaged or destroyed, including grapes, mangoes, and bananas.
...
While the heaviest rains have deluged the Pacific-facing west side of Peru's coastal mountains, especially toward the north, the resulting floods and mudslides have affected many areas downstream, between the mountains and coast. This includes Peru's capital, Lima, where major damage and disruption (including a disabled municipal water system) have occurred despite virtually no rain in the lowest-lying parts of the city.
...
Why didn't El Niño bring the expected heavy rains to Peru in early 2016, and what's going on this year? The answer may lie in El Niño's geographic flavor, according to Ken Takahashi (@ktakahashig), an expert at ENFEN and the Instituto Geofísico del Perú. Takahashi has analyzed a number of El Niño events by whether the focus of warming is in the central equatorial Pacific (C-type) or eastern equatorial Pacific (E-type). The other two "super" events of recent decades, 1982-83 and 1997-98, were both E-type, but the 2014-16 event, which peaked in 2015-16, ended up as more of a hybrid, leaning toward a C-type (see Figure below).
Each El Niño can be rated according to whether its sea-surface warming is more focused in the central equatorial Pacific (C index) or the eastern equatorial Pacific (E index). Of the three strongest El Niño events since 1950, the 1982-83 and 1997-98 events were dominated by eastern Pacific warming (E-type), whereas the 2015-16 warming was more of a C-type than E-type event.
"For Peru, the pattern mattered for the impacts," said Takahashi in an email. In 2015-16, he noted, "the drying effect of the central Pacific warming dominated over the rainy effect of the coastal warming. That was quite different from what's going on this year, in which the large-scale atmospheric pattern is still La Niña-ish, which helps the rains associated with the coastal El Niño." Takahashi sees some parallels between the current event and another "coastal" El Niño in 1925, which he analyzes in a paper now in review.