Why are ferocious wildfires plaguing southern California?
,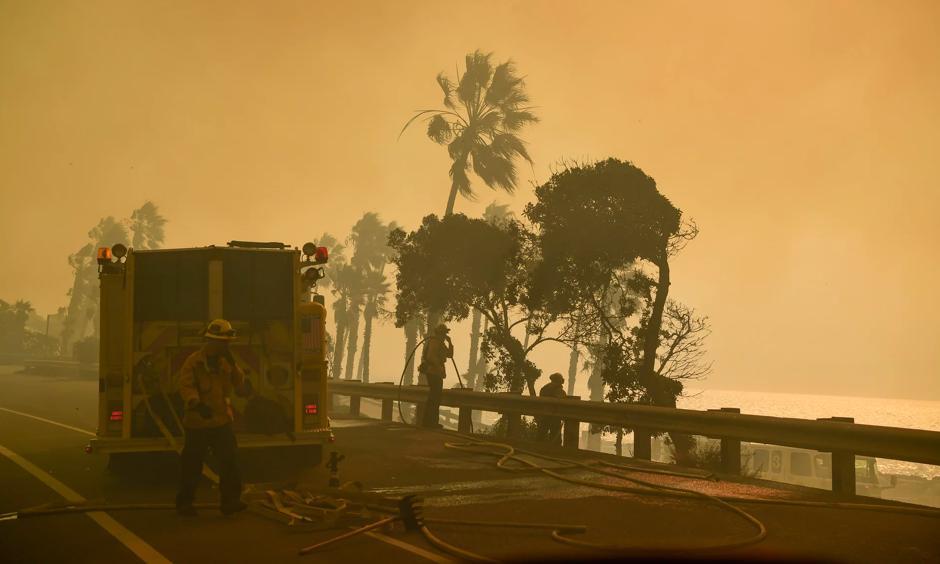 The exhausted firefighters battling fires that have menaced Los Angeles wouldn't normally expect to be dealing with such ferocious conflagrations with Christmas just a few weeks away.
But a combination of short and longer-term events have conspired to spark a ring of fires that have dotted the LA region, spearheaded by the 96,000-acre Thomas fire that looms over the city of Ventura.
...
Unhelpful conditions
Before the current spate of fires, Cal Fire had already called 2017 a "very difficult and trying year" for the state, most notably marked by the fires that tore through Napa Valley in October, killing 22 people and damaging more than 5,600 buildings.
Unseasonably warm weather in southern California – April until September was the warmest on record – combined with extremely sparse rainfall in the Los Angeles area to create prime wildfire conditions. The dry Santa Ana winds, reaching 70mph in places, have helped spread the flames at an extraordinary rate – the Thomas fire grew at around an acre per second as it developed and is still nowhere near contained.
...
Climate change influence
The exact role of climate change upon 2017 wildfires in California is still the subject of some discussion among scientists. But it's clear that this year, nationally, has been a big one for fire – more than 9.2m acres have burned so far in 2017, already far in excess of the 6m acre average established over the past decade. About half a million acres in California have combusted.
...
The warming temperatures dry out vegetation that then becomes more flammable. And once large areas burn, they release carbon that feeds further warming.