Wind-Packing Storms Howl from Great Plains to New England



 United States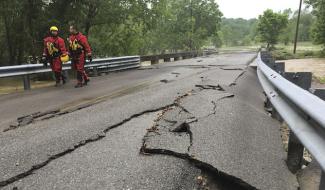 Severe thunderstorms swept across a broad swath of the U.S. on Thursday, leaving behind many pockets of wind damage but little tornadic destruction. As of late Friday morning, the NOAA/NWS Storm Prediction Center had collected a massive 303 preliminary reports of severe wind gusts--stretching across a belt from Oklahoma to northern Maine--and 211 reports of severe hail, along with 22 tornado reports. Countless trees were uprooted or damaged in Thursday's widespread wind. The highest gust from an official source was the 104 mph notched at an Oklahoma Mesonet station 4 miles northwest of Walters. Giant hail pounded parts of the Southern Plains, with numerous reports of baseball-sized hailstones--though none were reported as large as the 3-inch-wide-plus missiles observed in some of Tuesday's storms.
...
Swift water rescues were ongoing north of Nashville on Friday morning, according to weather.com, after localized rainfall amounts of up to 7" overnight...
Flooding is again a major concern from Oklahoma into hard-hit Missouri, where clusters of thunderstorms are propagating northeast along a slow-moving frontal system.