Yes, Phoenix could break heat records this week. Here's why and when you can expect relief
,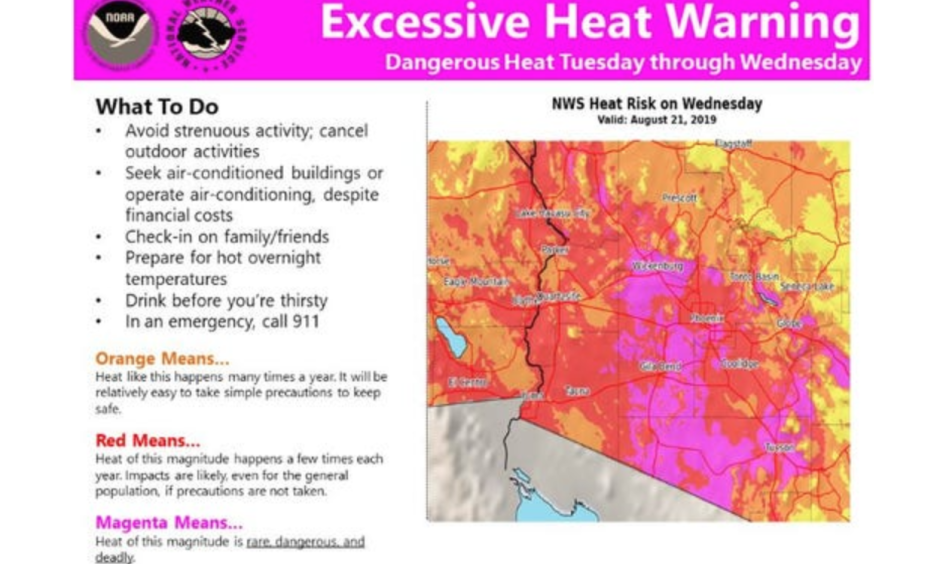 This year Phoenix has broken or tied record highs on June 12 (112 degrees), Aug. 3 (114) and Aug. 5 (115).
...
The average high temperature for the month through Aug. 18 is 108.3 degrees. That's 3.7 degrees above normal. The average overnight low temperature for August 2019 is 85.9 degrees (normal is 83.2).
That makes the average temperature for the month (taking the average high and low and dividing by two) 97.1 degrees, which is 3.2 degrees above normal.
...
The cause of the high heat also explains, in large part, the lack of rainfall in the area this summer. The area of high pressure necessary to bring moisture from the south and fuel monsoon storms has been in the wrong position for most of the season.
...
University of Arizona climate scientist Mike Crimmins said there have been a variety of factors keeping the high pressure out of the position needed for summer rains. The lack of rain has contributed to the extended periods of heat.
"The moisture is typically how we can temper some of these hot spells in the middle of the summertime," Crimmins said. "It's just getting some (rain) and cooling of the lower levels of the atmosphere and (having) clouds. If you take those off the table and put the high-pressure overhead in August, we're going to bake."