Heavy summer rains flood Peru
,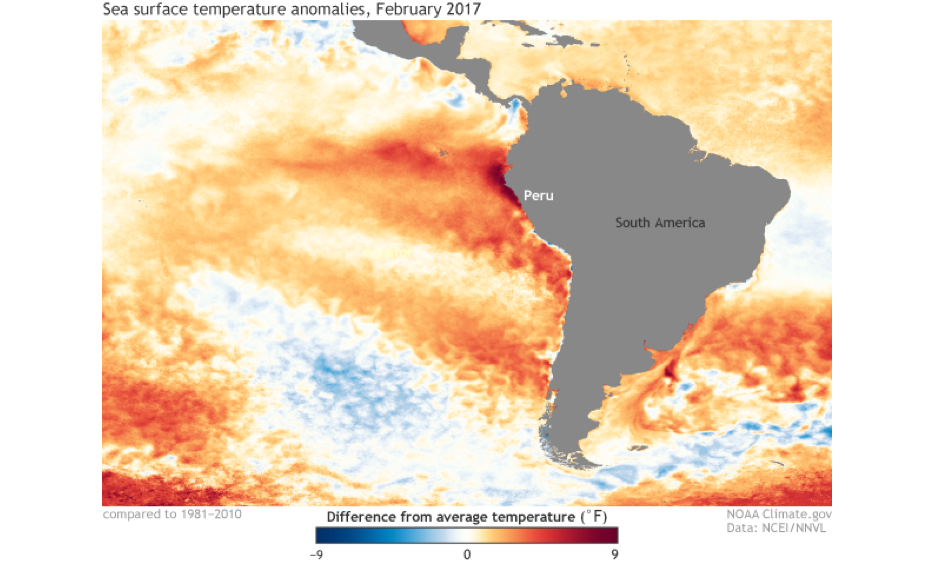 The Southern Hemisphere summer—December through March—is also roughly the rainy season for most of Peru—rains extend into April. However, the amount of rain that has fallen since the start of 2017 has been enormous in comparison to average.
With more than a month left to the season, 2017 is already likely one of the wettest years on record for San Miguel in the Piura province. Around 10 inches of rain has fallen since January 1, when, on average, the entire rainy season usually totals just two inches of rain. Farther inland in the Piura region, a weather station in Morropón recorded 43 inches of rain since the start of 2017. At this point of the year—early March—Morropón's average rainfall is about 4 inches. Rainfall totals in 2017 are 10 times higher than normal.
Farther south, the heaviest rains fell in the month of January. At Chuquibamba in the Arequipa province, around 8 inches of rain fell in January, more than double the average. Totals at the beginning of March are around 12 inches, 4 to 5 inches above the average seasonal rainfall total, with a month still to go.
The rains and resulting floods and landslides have killed at least 25 people and affected more than 200,000 people in Peru. In particular, inland rains which fell on the western slopes of the Andes Mountains have caused major issues. Heavy rain falling on steep terrain is a recipe for landslides. In Arequipa in southern Peru, landslides cut off the Peruvian Panamerican highway while floods killed at least three people in late January.