Eastern US Arctic Invasion and Winter Storm January 2018



 United States
The intense cold hitting the United States during the first week of 2018 continued with a heavy snowstorm that inundated the Northeast seaboard beginning the night of January 3 through January 4. The combined impact of the arctic outbreak and the intensified nor'easter landed a double whammy in which new record low temperature records were set.
Science studies and models report that the outbreak of arctic air bringing freezing temperatures to the lower United States is consistent with the climate disruption expected on a warming planet where the Arctic heats up faster and cold air is displaced to the south.
Unusually warm offshore waters also amplified the temperature contrast between land and ocean surfaces. This temperature contrast is what generally fuels nor'easters. These conditions over the Atlantic are consistent with the long-term climate change trends that intensify nor'easters.
While climate change warms the planet as whole, it also disrupts regional weather patterns, sometimes displacing cold air to the south. The overall warming trend continues but cold conditions can move. The record setting heat events recently observed further north in parallel to cold conditions in the continental US are consistent with this pattern of disruption.
Get the details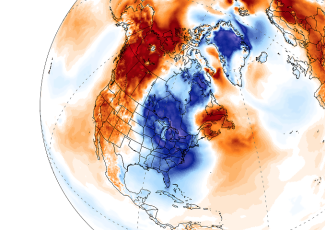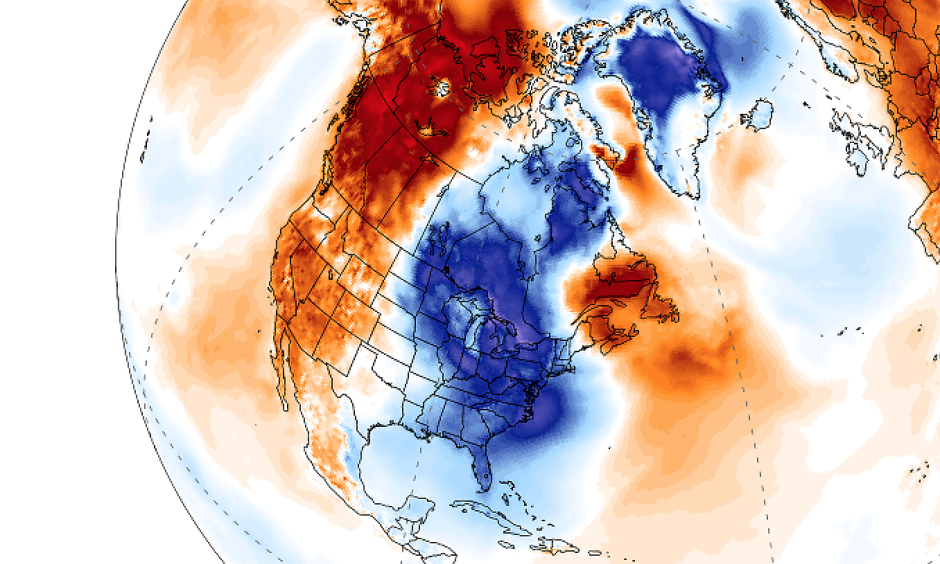 Climate science at a glance
Climate change has been linked to an intensification in nor'easter storms.[1]The temperature contrast between warm off-shore waters and cold continental air fuels nor'easters, and warming of Atlantic waters accentuates the contrast.
Cold events still occur in a warming world, though they become less frequent globally. Warmer than average temperatures are observed more often than cooler than average temperatures in a warming world.[2]
While the eastern US has witnessed cold conditions, the rest of the globe has been warmer than normal.[3]
Climate change also disrupts regional weather patterns and can bring cold further south while warm air can travel further north.
Disruption via arctic warming affects weather patterns in the mid-latitudes, e.g. the continental United States.
Coastal flooding driven by storms is now significantly worse due to storm surge riding on higher waters elevated by sea level rise to date.
---
Wintertime circulation is likely getting "stuck" more often due to a warmer Arctic
The Arctic has warmed about twice as fast as the rest of the world. In some places, winter temperatures are as much as 7°F, or almost 4°C warmer than they were just 50 years ago. Arctic warming affects weather patterns in the mid-latitudes, where most people live. Models report that cold weather Arctic invasions into the eastern US grow more intense in a warming world—a phenomenon of climate disruption sometimes popularly referred to as "global weirding."
The warming of the Arctic connects to mid-latitude weather systems through the jet stream—a narrow band of strong winds high up in the atmosphere that pushes weather systems along. The jet stream is powered by the temperature difference between the Arctic and the mid-latitudes, and this difference is shrinking as the Arctic warms. Scientists suspect this may be making the jet stream slow down and meander, rather than speeding around the planet as it usually does.
Scientists have observed heavier-than-normal snowfalls in the Midwest and Northeast US in recent years, with little snow in other years.[4] These observations are consistent with indications of increased blocking of the wintertime circulation of the Northern Hemisphere.[5]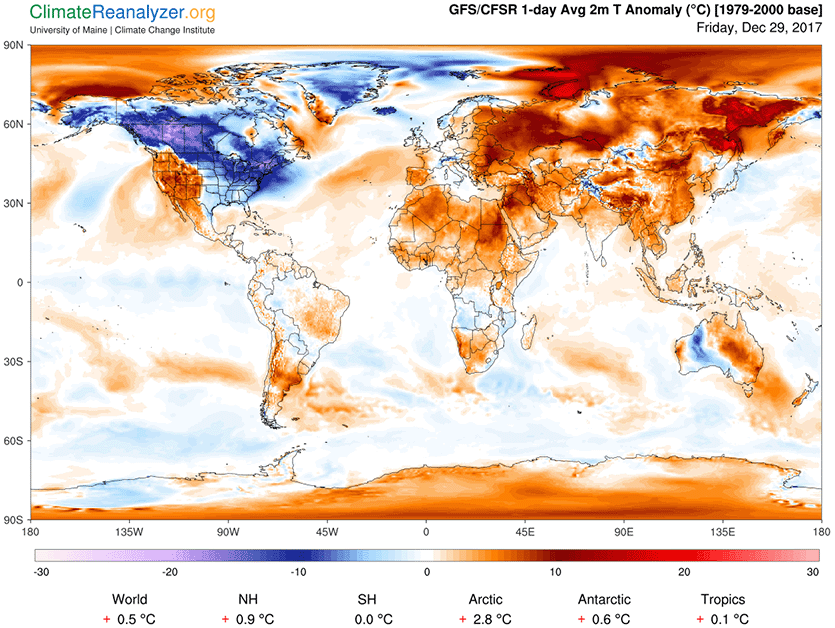 ---
Climate change can increase blizzard risk
During the storm, wind gusts over hurricane strength were recorded in parts of the Outer Banks.[6] Locations in Connecticut, Massachusetts, New York, and Rhode Island received over 10 inches of snow by the afternoon of Thursday, January 4.[7][8] More than 4,500 flights were canceled.[9] School systems from Florida to Massachusetts — including the New York City school system, which is the country's largest — canceled classes.[9]
Temperatures in the Goldilocks range of between about 28°F and 32°F, accompanied by moisture, mean more snow. The profile of the nor'easter matched the Goldilocks profiles of recent nor'easters in which a sharp contrast between cold continental air and a relatively warm ocean permitted the storms to tap moisture fed by high sea surface temperatures and convert it into exceptional snowfall.[10]
The temperature contrast between warm offshore waters and cooler conditions over land power nor'easters. Current Atlantic ocean temperatures are unusually warm, providing extra fuel to the storm, leading to a potential "weather bomb." Such strengthening of nor'easters is consistent with long-term global warming trends.[1]
The amplification of these physical mechanisms can be seen in the long-term trends. There were twice as many extreme regional snowstorms in the US between 1961 and 2010, compared to 1900 to 1960.[11] In New York City, 6 of the top 10 snowfall events since 1869 for Central Park have occurred since 2000.[12]
---
Climate change contribution to sea level rise can top coastal defenses
Water levels in Boston approached near record-high levels.[13]
Coastal flooding driven by storms is amplified by storm surge riding on higher sea levels. Due to climate change, the global ocean has already risen eight to ten inches over the last century as warmer ocean waters expand and ice sheets and glaciers melt. In addition, the intense winds that produce storm surge can gain strength from warmer than average sea surface temperatures. Warming seas and elevated sea levels are both driven by global warming.