Hottest Month on Record July 2019



 Global
July 2019 was the hottest month of any month on record, according to the National Oceanic and Atmospheric Administration, Japan's Meteorological Agency, and Berkeley Earth. Their announcements follow a record hot June.
July's record temperature underscores the unabated pace of global warming seen even more clearly in the long-term data over the past several decades. Warming of the climate system is unequivocal, and since the 1950s, many of the observed changes are unprecedented over decades to millennia.[1] Human activities—primarily the burning of fossil fuels and deforestation—have caused the atmosphere and ocean to heat up. The likely range of the human contribution to the increase in global mean temperature over the period 1951–2010 is 1.1° to 1.4°F. This translates to a likely human contribution of 92 to 123 percent of the observed 1951–2010 change.[2]
Get the details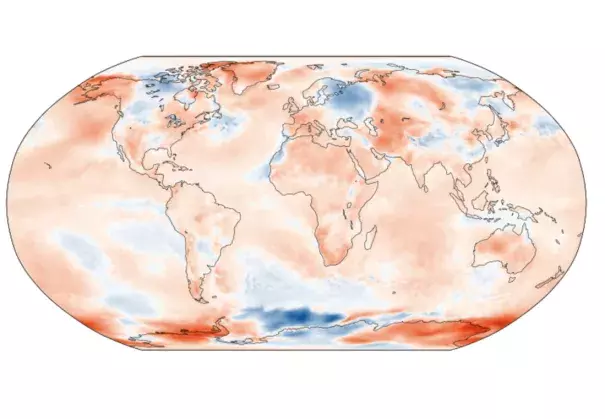 Climate science at a glance
---
Climate signals breakdown
Our planet is warming due to human activities primarily the burning of fossil fuels and deforestation, which load the atmosphere with CO2 and other greenhouse gases.
Each of the last three decades has been successively warmer at the Earth's surface than any preceding decade since 1850, and the period from 1983 to 2012 was likely the warmest 30-year period of the last 1400 years in the Northern Hemisphere.[2]
Observations consistent with climate signal #1
Extreme heat and heat waves are some of the clearest impacts of climate change on extreme weather. Hot temperatures that were extreme in past decades are now closer to the middle of the temperature range as the average global temperature rises and the climate shifts.[4]
In a stable climate, the ratio of days that are record hot to days that are record cold is approximately even. Due to global warming, record highs are outpacing record lows, with the imbalance growing for the past three decades.[5]
A recent study shows that almost everywhere heat extremes—defined as the highest daily average temperature of the year—are now warmer than a century ago, following the obvious first-order connection with global average temperature.[6] Global warming has had a major hand in temperatures seen during the hottest month and on the hottest day on record throughout much of the world from 1931-2016.[7]
Observations consistent with climate signal #2
Some of these records were not beaten by a small increment. They established an entirely new baseline.

J. Marshall Shepherd, director of the University of Georgia's atmospheric sciences program[9]