Hurricane Hermine 2016



 United States
Hurricane Hermine brought heavy rains, widespread storm surge and power disruptions when it made landfall near St. Marks, Florida just after midnight on September 2. Hermine then inundated Georgia, South Carolina and North Carolina with heavy rains before re-emerging over the ocean on September 3. Offshore, Hermine stalled, causing an unusually prolonged period of high surf, beach erosion, and storm-surge flooding along the Mid-Atlantic coastline from Delaware to Massachusetts.
The threat of catastrophic flooding through prolific rain and storm surge are two risks both significantly amplified by climate change. As the global temperature increases, so too does the ability of the atmosphere to hold and dump more water, while ocean warming increases evaporation driving extreme rainfall and intensity of tropical weather systems. Flooding is also amplified by sea level rise which extends the reach of storm surge.
Get the details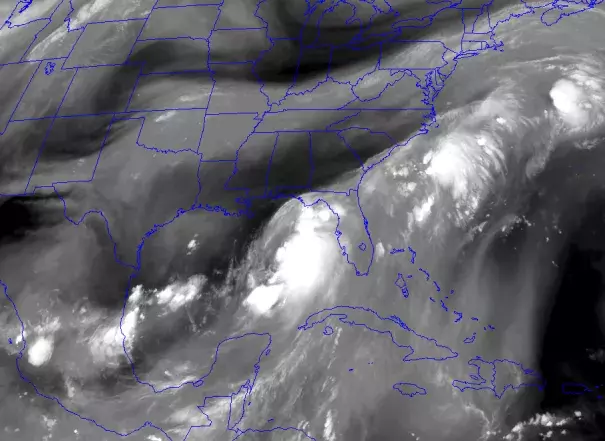 Hurricane Hermine highlights climate change risks
Hermine intensified quickly over unusually warm seas, growing into an 80-mph Category 1 hurricane on September 1 that made landfall just after midnight on September 2 near St. Marks, Florida.[1] Cedar Key, a 700-person village 90 miles north of Tampa Bay, was "devastated" by rain, wind and a 9-foot storm surge.[2] Florida Gov. Rick Scott said 300,000 homes remained without electricity on September 3.[3] Authorities have reported three deaths associated with the storm.[4]
After making landfall near St. Marks, Florida, early on September 2, Hermine transitioned from a tropical storm to an extratropical storm on September 3—a classification based on a storm's wind distribution and primary fuel source—with top winds near 70 mph. On September 4 and 5, Hermine stalled offshore causing an unusually prolonged period of high surf, beach erosion, and storm-surge flooding along the Mid-Atlantic coastline from Delaware to Massachusetts.[5]
Top rainfall amounts in the hardest-hit states include: 18.89 inches in Baskin, Florida; 6.37 inches Alma, Georgia; 9.93 inches in Myrtle Beach, South Carolina; and 13.34 inches in Cedar Island, North Carolina.[6]
Hermine highlights the risks associated with a warmer climate and sea level rise, two factors linked directly to climate change and the carbon pollution driving global warming.
---
Sea level rise elevates storm surge flooding in coastal communities
Hermine brought widespread storm surge to Florida's northeast Gulf Coast.[7] The highest observed storm surge was 9.89 feet at Cedar Key.[8]
Sea levels have risen by 8 inches since 1880,[9] resulting in higher storm surge that penetrates much further inland. Large storms tend to drive coastal flooding, especially when they occur at times of high tide. The damages wrought by heavy rain and storm surge are often much worse than the damage from heavy winds.[10]
The Gulf Coast of Florida is highly vulnerable to large storm surges, due to the extensive stretch of shallow continental shelf waters offshore that extend up to 90 miles from the coast.[11]
---
Global warming supercharging rainfall
One of the clearest changes in weather globally and across the United States is the increasing frequency of heavy rain.[9] Over the past century the US has witnessed a 20 percent increase in the amount of precipitation falling in the heaviest downpours. And the increase in extreme precipitation has dramatically increased the risk of flooding.
As the global average temperature increases, so too does the ability of the atmosphere to hold and dump more water when it rains.[12] Storms reach out and gather water vapor over regions that are 10-25 times as large as the precipitation area, thus multiplying the effect of increased atmospheric moisture.[12] As water vapor condenses to form clouds and rain, the conversion releases heat that adds buoyancy to the air and further fuels the storm.[13] This increases the gathering of moisture into storm clouds and further intensifies precipitation.[12]
Daily record rainfall events increased in frequency by 12 percent across the globe from 1981 to 2010 compared to the number expected in a climate with no long term trend.[14] The northern tropics had the largest regional increase at 18 percent, with moderate increases observed in the northern subtropics and extratropics of 9 and 12 percent respectively.[14]
---
Warm seas fueling rainfall and storm intensity
Near record-warm ocean temperatures in the Gulf of Mexico are evaporating near-record amounts of water into the atmosphere for Hermine (on August 31 at 8 AM EDT, Tampa, Florida had a total precipitable water measurement of 2.5 inches that ranked in the upper 1 percent of all such measurements taken at the site since records began in 1948 ).[11] Waters in the Northern Atlantic, where Tropical Storm Hermine strengthened, were 1.8°F (1°C) above average.[15] These conditions are likely contributing to the storm's heavy rainfall and intensity.
During July 2016, the month preceding the development of Tropical Storm Hermine, the combined land and ocean surface global surface temperature anomaly was the warmest on record at 1.57°F (0.87°C) above the 20th century average.
---
North Atlantic trends signal hurricane risks in a warming world
The intensity, frequency, and duration of North Atlantic hurricanes, as well as the frequency of the strongest hurricanes, have all increased since the early 1980s, according to the US National Climate Assessment.[9] Global warming heats up sea surface temperatures which in raises the potential speed limit for hurricanes.