Alabama Farmers Assess Damage From Tropical Storm



 United States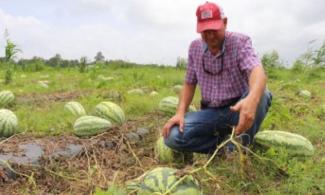 While remaining rainfall from Tropical Storm Cindy whirls farther north, Alabama farmers are assessing damage to fruits, vegetables and row crops following the downpour.
This year's fruit and vegetable season started off promising at Sessions Farm in Mobile County, but 30 inches of rain in the past 30 days caused water-damaged produce to split and ruin.
"We had the prettiest crop we've ever had," said Art Sessions of Sessions Farm in Mobile County. "Now it's gone."
While certain fields of ripe produce, like watermelons, tomatoes and cantaloupes, are ruined, the Sessions still have peppers, okra and late-season watermelons and tomatoes to harvest. The problem? Marketability.
"All the people we sell to are affected by the rain, too," said Jeremy Sessions, Art's son. "When it's raining, people don't get out and shop the way they do when it's pretty weather out. They don't grill out like they would on a sunny weekend."
Jeremy estimated a 40 percent decrease in sales, as the Sessions and other farmers faced markets closed due to weather. They've delivered produce to customers farther north and decreased prices to move their perishable products.
In Monroe County, row crop farmer Scott Saucer said he's battled the worst planting season he's ever seen, with rainy weekdays and weekends spent catching up in the field.
Saucer planted about 375 acres of peanuts in mid-May. From there, 2-5 inches of rain each week became the norm.
Eight inches of rain fell between Monday and Wednesday this past week, flooding fields. Thanks to tiles, ditches and drains, more than half the water drained less than 24 hours later.
"I think we'll be fine as long as we get some sunshine in here and let everything start growing and catching up," said Saucer, who also planted around 500 acres of cotton. "Mother Nature has a way of working itself out. The older generation always told me you can make a crop in a wet year; you can't make a crop in a dry year."
Friday, Gov. Kay Ivey sent a letter to U.S. Department of Agriculture Secretary (USDA) Sonny Perdue requesting urgent assistance on behalf of all Alabama farmers.