Category 5 Meranti Threatens Taiwan
,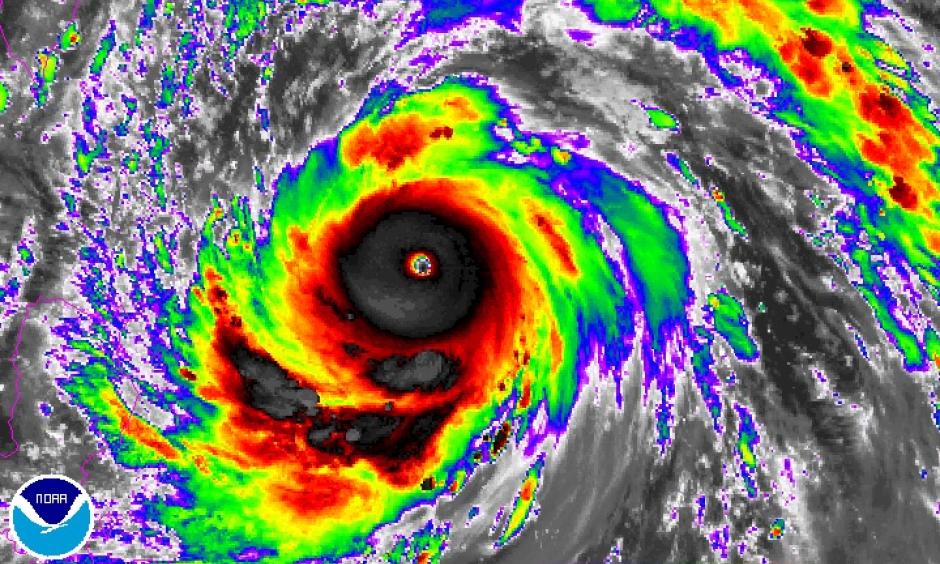 Earth's strongest tropical cyclone of 2016 thus far is heading for a potentially destructive encounter with Taiwan. A mere 50-mph tropical storm just two days ago, Super Typhoon Meranti was packing top sustained winds of 155 knots (180 mph) at 12Z (8:00 am EDT) Monday, using the 1-minute peak wind standard employed by the Joint Typhoon Warning Center (JTWC) and the National Hurricane Center. (Outside of the U.S., most weather agencies employ a 10-minute wind average; by this standard, Meranti's peak winds were 115 knots, according to the Japan Meteorological Agency.) Meranti has vaulted to Category 5 strength by taking advantage of nearly ideal conditions, including very warm sea-surface temperatures around 30°C (86°F), very low wind shear (below 10 knots), and a fairly moist mid-level atmosphere (60-70% relative humidity).
Meranti is the planet's fourth Category 5 storm of the year, following Tropical Cyclone Winston (February, Southwest Pacific Ocean), Tropical Cyclone Fantala (May, Southwest Indian Ocean), and Super Typhoon Nepartak (July, Northwest Pacific Ocean), which struck Taiwan. The globe averages between 4 and 5 Category 5 storms per year. Meranti has now tied Winston for the strongest winds of the year, and its central pressure of 905 mb, as analyzed by JMA at 12Z Monday, puts it just behind Nepartak (900 mb).
...
Meranti's projected track is very similar to that of another super typhoon that struck Taiwan back in early July. Super Typhoon Nepartak maintained Category 5 strength with sustained winds of 160 mph and a central pressure of 900 mb until it was just 12 hours from landfall in Taiwan on July 7, 2016. Nepartak made landfall on the southeastern shore of Taiwan as a Category 4 super typhoon with top sustained winds of 150 mph, as estimated by the the Joint Typhoon Warning Center (JTWC), with a central pressure estimated at 930 mb by the Japanese Meteorological Agency (JMA). Nepartak struck the sparsely populated southeast coast of Taiwan and moved offshore north of Kaohsiung, limiting the damage from the storm. Three deaths in Taiwan were blamed on Meranti, along with $33 million in agricultural damage. National Taiwan University (NTU) buoy NTU2 (located about 170 km southeast of Taitung, Taiwan) recorded a surface pressure of approximately 897 mb as the eye passed over near 8 am EDT July 7. If verified, this may rank as the lowest surface pressure ever measured by a buoy in world history. A team from National Taiwan University is working to verify that the calibration of the pressure on this buoy was correct.

The encounter with the high mountains of Taiwan destroyed the inner core of Nepartak, resulting in the surface circulation separating from the circulation at mid-levels of the atmosphere. A much weakened Tropical Storm Nepartak made landfall in mainland China day later, causing torrential rains that triggered flooding that killed 108 people and caused over $1.4 billion in damage. The future of Meranti beyond Taiwan hinges in part on whether the storm's core stays just offshore or whether it gets torn apart by Taiwan's southern mountains--an outcome too close to call at this point. Track models agree that Meranti will continue on a general west-northwest to northwest track toward the China coast, but with important differences on where Meranti might strike along the coast and how it would behave after that point. Meranti's size and strength give it the potential to be a catastrophic rainmaker in China